Tent Fabric
Rental Companies: Here's How to Pick the Right Event Tent Structure
Here are four key things to consider as you shop for an event tent structure, including timeline, location, and manufacturer reputation.
---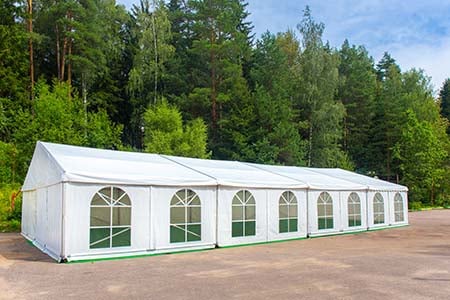 Trying to decide what kind of tents you need in your warehouse?
When shopping for event tent structures, you'll quickly realize there are many options to choose from. It's important that you choose carefully — not every tent is right for every event, and providing the wrong tent can hurt your reputation and your bottom line.
To make sure you have everything your customers need, you'll need to take a closer look at a few important factors. Here are four key things to consider as you shop for event tent structures:
Timeline
There's a big difference between a tent that stands for a weekend and a tent that stands for three months.
Permanent or long-term tent structures must be made from more durable materials that can withstand weather conditions over a long period of time.
Architent Excel, for example, is a UV-resistant, easy-to-maintain fabric engineered to meet the demands of large, long-term structures.
Of course, that's not to say temporary structures don't need to be durable.
Frequent setup, teardown, transportation, and cleaning can take their toll on the fabric, so even if you're choosing a temporary structure, be sure to select a material with suitable tear and tensile strength that can stand up to frequent handling in order to reduce long-term repair and replacement costs.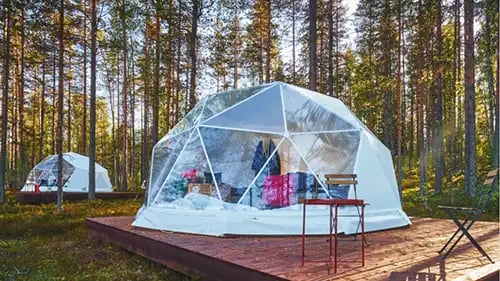 Climate
You'll also need to take the seasons and climate into account when shopping for event tents.
Here are a few examples of how climate might affect your tent fabric choice:
For areas with frequent rain and/or high humidity, you'll want a mildew-resistant material or coating like Rain-Kleen.
For frequent hot weather and/or lots of sun exposure, UV-resistant material will reduce fading.
Cold temperatures may cause certain fabrics to become brittle or cracked, so be sure to check temperature guidelines for the material.
For some rental companies, this might mean stocking separate supplies of summer and winter tents.
Event type
Do you specialize in one event type, or provide tents for a range of events?
The type of event the structure is most likely to host — weddings, corporate gatherings, music festivals, sports, etc. — should inform your requirements for durability as well as color and style.
When it comes to upscale events where aesthetics are important, a traditional white, high-quality tent is a popular choice. If an event is more playful and less formal, Showtime fabrics offer a range of 17 high-gloss colors — ideal for theme parks, carnivals, and festivals.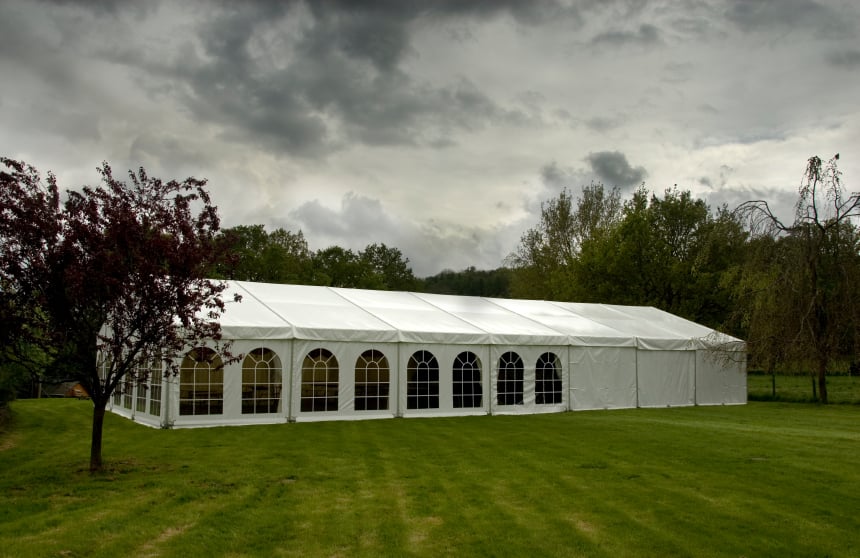 Manufacturer reputation
To ensure that your tent's performance is up to par — and that your customers' events go smoothly — you need to have high-quality materials, so manufacturer reputation is key when picking an event tent.
Herculite Products, Inc. is the manufacturer of Architent, the industry's leading flexible composite textile for the fabrication of rental tent structures.
As an ISO 9001:2015 certified company and a leader in the manufacturing and development of high-quality performance textiles, you can trust tents made from Herculite materials to deliver the quality and performance your customers demand.
Conclusion
For outdoor events, the tent is often the center of the festivities. It needs to perform, from looking nice to providing guests with shelter from rain or sun. That's why it's important to carefully weigh your options and select a durable, high-quality tent material.
Learn more about choosing a manufacturer and fabric for temporary tent structures here.
Herculite is here to answer your outdoor event rental questions. Contact Us.