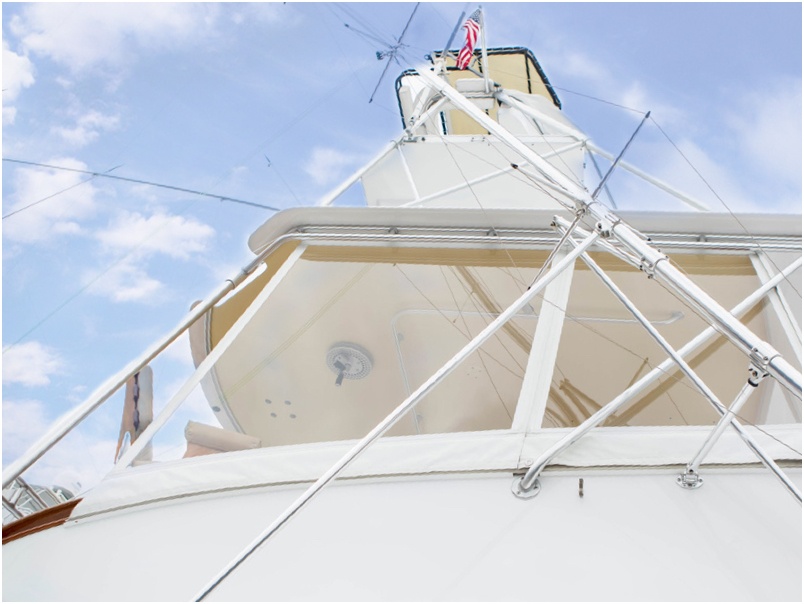 A sailboat cockpit enclosure is a straightforward piece of hardware that prepares your your watercraft for use. It's a rigid frame covered with fabric and see-through enclosure windows/panels that protect you and your passengers from spray, wind, sunshine, and rain.
A good sailboat cockpit enclosure does more than just keep you warm and dry; it offers protection from UV rays, fabric strength and tear resistance, clarity in the windows, and so much more. In fact, there are so many features and options available today that when you're considering a sailboat cockpit enclosure, you might want to consult a forum or you can check out other online resources to help you understand the landscape.
So what do we think makes a good sailboat cockpit enclosure? Here's a quick list of things to to look for before you buy:
UV Ray Resistance

: Protecting you, your guests, and loved ones from the harmful effects of the sun's rays is one of the most important reasons for having a sailboat cockpit enclosure.

Clarity

: The

windows or panels

of a cockpit enclosure should be clear and easy to see through, without any cloudiness, fisheye effects or swirl marks.

Strength

: The enclosures should have a sturdy frame and be made from a specialized

marine fabric

that is waterproof and mold/mildew resistant.

Color

: The marine fabric that makes up the rest of the enclosure - not the windows or panels - should be colorfast and able to withstand the rigors of the sea. Your supplier should also have a variety of colors available.

Hardware

: The hardware of your sailboat cockpit enclosure should be strong, made of materials that don't rust easily, and that include the right zippers, poles, and sewing techniques. You'd be surprised - not all enclosures are made equally when it comes to quality.
Once you've decided you want a sailboat cockpit enclosure, you need to consider a few things that will impact your choice of product and style. Do you want a fully enclosed structure? Or do you want a partially enclosed one? For example, if you like to sail on calmer waters under clear skies, then a partial enclosure might be right for you. But, if you if you often find yourself in rough conditions, a full enclosure might be a better fit.
Some other things to consider include the types of fabric and enclosure panels you want to use when it comes to design. Your enclosure should fit the lines of your boat and use colors that match your watercraft, and the special features of your fabric (like UV resistance) should be designed for the environment you sail your boat in. Don't just go with any marine fabric, they're not all the same.
Finally, always do your research and due diligence when it comes to investing in your boat. Find out who supplies the best fabrics and enclosures and ask your manufacturer/installer about the different products, services, and warranties that are available.
Want to know where boating pros get their marine vinyl accessories? Download

Where to Buy Marine Vinyl for Your Boat? A Guide for New Boat Owners