Canvas Innovations of Holland Michigan designed and manufactured this enclosure project using Riviera Marine Fabric and Strataglass.

This project was an entry in the 2016 Fabrication Excellence Awards at the MFA National Convention.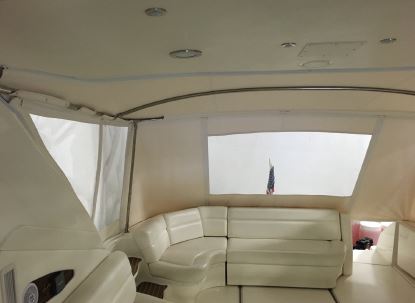 WHAT WERE THE PROJECT SPECIFICATIONS?
Make and install a new seven section front enclosure and nine section campertop with an enclosure off the hard top. The front windows will attach to the hard top with a zipper flap. Build a new horizontal camper top "hoop style" from scratch with 1 1/4" stainless and a zipper flap for the 9 windows.
WHAT WAS THE PURPOSE OF THIS PROJECT?
The customer uses the boat for big events and entertainment. Everytime time
this boat leaves the slip there is always guest or customers aboard. They had
an aft curtain that spanned from the hardtop to the back of the boat and when
it was up the cockpit was to small to accommodate a large number of people.
So we were asked to make the cockpit bigger but they didn't want to lose the
sporty look of the boat. The customer made it very clear that he did not want
to make his boat look like all the other Sea Rays.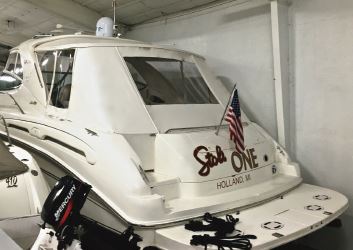 WHAT WAS UNIQUE OR COMPLEX ABOUT THE PROJECT?
The size of the frame made it difficult to transport from our shop to the marina. During the install of the frame, we realized that we would have to add dog legs in the bow to eliminate it rubbing against the arch. Once the massive frame was set and the supporting stanchion rods were in place, it was all down hill!
WHAT WERE THE RESULTS OF THE PROJECT?
The rear enclosure turned out awesome and made the boat feel so much
bigger. The customer loved being able to pull three of the front enclosure
windows back to the hard top for ventilation. The project overall was exactly
what the customer was looking for to keep guests comfortable and increase the
living space of their boat. Strataglass with Herculite Riviera Marine fabric together makes a long lasting and durable enclosure.
616-393-4400