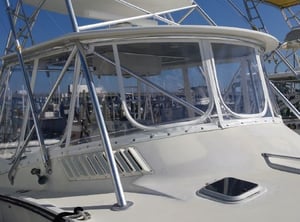 Chris Sharp MFC of Sharps Custom Canvas Inc designed and manufactured this enclosure project using Riviera Marine Fabric and Strataglass. This project was an entry in the "Tops and Enclosures 29' and Under" category at the 2016 Fabrication Excellence Awards at the MFA National Convention.
WHAT WERE THE PROJECT SPECIFICATIONS?
7 panel Enclosure with Zip-outs.
WHAT WAS THE PURPOSE OF THIS PROJECT?
The client wanted the enclosure reconfigured with an upgrade on the materials. The old enclosure leaked water through the zip-outs and the client wanted the side panels split for easy access. The aft edge of side panels did not go to the aft tower legs, so they moved a lot underway. He also wanted front zip outs to hinge up to the hard top.
WHAT WAS UNIQUE OR COMPLEX ABOUT THE PROJECT?
Front Frame work and panel layout made hinging of panels difficult. Solution was to hinge up Center and Front sides separately. Not possible to have all 3 up at the same time. Aft edge of side panel fitted to tower leg with LTD fasteners to prevent flapping in wind.
WHAT WERE THE RESULTS OF THE PROJECT?
A very satisfied customer. Strataglass with Herculite Riviera Marine fabric and the Solar thread makes a long lasting and durable enclosure. Splitting the side panels into 2 makes the zipouts easier to handle.