Performance Fabrics
ISO 9001 Certification In Textile Manufacturing Explained
Take a look at why ISO certification is important for fabric and text manufacturers and see why Herculite is proudly ISO 9001 certified.
---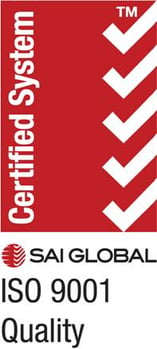 Lots of companies manufacture textiles - but how can you be sure that their goods are manufactured to a higher standard, consistently? That's where the certification of quality management systems can help to give you trust that a company is manufacturing with consistent quality. The gold standard of quality manufacturing system certifications is ISO 9001. You may have seen the ISO 9001-certified claim made by companies as diverse as Nestle and DHL.
But what is ISO certification? It's become ubiquitous, we see the logo at the bottom of manufacturers, suppliers, and other company web sites. But what does it really mean for you, the customer? Let's explain exactly what ISO 9001 certification stands for and what it means when you buy products from one of our Herculite brands.
What is ISO 9001? - A Little Background
Delegates from 25 countries first met in London in 1946 to devise a means to improve the quality of industrial standards. A year later, the International Organization for Standardization (based in Geneva, Switzerland), the ISO, was formally launched. The organization consists of a global consortium of national standard-setting bodies.
ISO stands for International Organization for Standardization. ISO is a non-governmental membership organization. Standards, according to the ISO web site, provide "world-class specifications for products, services and systems, to ensure quality, safety and efficiency. They are instrumental in facilitating international trade." The certifications these groups develop are designed to formally establish and document a company's quality management system. The procedures and documentation the certification requires demonstrates to the company's customers the objective standards of quality and quality management the company abides by.
To date, ISO has published more than 19,500 International Standards which cover nearly every industry. Basically, ISO certification means you comply with an international system of industrial standards.
What does ISO 9001 certification require?
The standards for manufacturers, such as Herculite, detail a rigorous set of requirements including:
Documentation of the quality management system
The ISO 9001 standards require that you document how your quality management system will work—from start to finish. Everything from how and where you source your raw materials to how your personnel are trained, how the work is done, how your standards are tested, and what happens after the sale to ensure quality goods have been delivered.
Establishment of a quality management support system
It's not enough to say you support quality management, to be ISO 9001-certified, you must implement a means to continually prove your commitment and support to those goals.
Customer satisfaction tracking
ISO 9001 requires that you put a customer satisfaction tracking system in place that proactively tracks how satisfied your customers are and establishes a means to improve verifiable defects or shortcomings in the manufactured goods.
Quality objectives and tracking systems
To meet ISO 9001 standards, a manufacturer must establish product quality objectives and the tracking systems necessary to ensure those objectives are met.
Product design controls
The design and development process which governs how your products are conceived and brought into production—input, output, reviews, and verification—must be formalized under the ISO 9001 standards.
Company audits
To receive and maintain its ISO 9001 certification, a manufacturer must establish a means to monitor and measure the quality management systems it has established. An audit schedule must be established and then routinely executed to demonstrate the ongoing effectiveness of the systems.
Non-conformance
To meet ISO 9001 certification standards, manufacturers must establish a method to identify non-conformance of the standards and a means to control and mitigate its occurrence.
Preventative, corrective procedures
As with any standard, especially for manufacturing, the objective is to prevent non-confirming products from being made in the first place. The ISO 9001 standard requires manufacturers to put in place a set of actionable procedures to prevent substandard goods from being made in the first place and a way to correct them from happening in the future if they do.
What ISO 9001 Means to You
What an ISO 9001 certification really means though is that the company who has earned it has voluntarily taken it upon themselves to conduct their business professionally, responsibly, reliably, and ac countably. It gives you, the customer, a degree of trust and confidence that other companies cannot provide because they decided these objective, internationally recognized guidelines are not worth their efforts. At Herculite, We're proud to earn the ISO 9001 certification and demonstrate our ongoing commitment to customer satisfaction, quality, and superior value in everything we manufacture.