"Would you like to be seated inside, or on our patio?"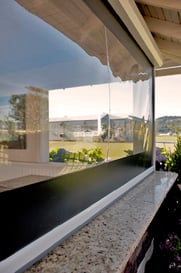 Especially when it's nice outside, many people would say, "Patio, please!"
Whether you call it outdoor dining, picnicking, feasting en plein aire, or eating al fresco, enjoying a meal outside is very much a part of everyday life, particularly in warmer months. But where did this tradition come from, and is it still alive and well today?

A history of outdoor dining
In the Middle Ages, lords who hunted for sport in their leisure time would partake in hunting feasts, and for much of history, holding outdoor meals remained an activity for the wealthier classes. In the 18th century, wealthy Americans paid for admittance to private gardens where they could enjoy outdoor treats. Only in the Victorian era did picnics become a more common activity across class boundaries.
But in those days, you generally had to BYOF (bring your own food). That changed in the early 1900s, when a seaside restaurant in Coney Island sparked the trend of purchasing food and eating it outdoors with the invention of the hot dog. Soon, more and more food vendors offered outdoor seating, particularly in popular tourist areas like Coney Island.
Outdoor dining today
There's now an entire culture around outdoor dining. From trendy beer gardens to extravagant rooftop restaurants, people seem to enjoy eating al fresco more than ever before, whether it's for the unique ambiance or just to get some fresh air.
There are even lists ranking the best places to eat outside in particular cities (like this one for Los Angeles) and the best cities in the world for outdoor dining, so people can plan their vacations and events around highly-rated outdoor eating experiences.
Benefits of outdoor dining
Many eateries are capitalizing on this demand by adding new outdoor spaces to their establishments, or taking their existing outdoor spaces to the next level.
An outdoor space means more room for tables, more customers, and more revenue. But that's not the only benefit. Here are a few other reasons why an outdoor area is good news for restaurants:
Being outdoors, particularly in spaces with plants, can make people feel happier. Both patrons and employees can benefit from the opportunity to be outside.
Patios can be pet-friendly, which encourages more business from dog lovers.
People may feel more comfortable bringing their young children to an outdoor dining space, so they don't have to worry as much about noise levels.
Outdoor dining inspiration
How should a restaurant, brewery, cafe, or other eatery go about creating the best possible outdoor dining experience? It depends on the atmosphere you're going for, but here are some ideas:
Plants
Decorate your patio with greenery to create a lush botanical environment. The best plant choices for your restaurant patio will be easy to care for and will do well in your particular climate, so be sure to do some research on plants that thrive in your area.
Residential-inspired design
If your establishment is more casual or rustic, adding a homey feeling to your patio might work well. Consider swapping out traditional, uniform restaurant furniture for a more casual look — when done right, even mismatched furniture can look chic. Look to residential patio design for inspiration.
Awnings and canopies
You can add some shade and style to your outdoor space with an awning or canopy. Make sure to choose high-quality textiles that are cost-effective, durable, and give your space some extra curb appeal.
Heat lamps
For some customers, being too cold is a dealbreaker! Online review sites like Yelp often note whether or not restaurants have heated patio spaces, so if you're in a climate with frequent cold weather, heat lamps can be a great investment. Some restaurants even install outdoor fireplaces or offer blankets to keep their patrons warm and cozy.
Clear vinyl enclosures
Depending on your location and climate, heat lamps might not cut it. Especially in areas that experience a lot of wind, rain, and snow, it can be hard to keep your patio open year round, and the electricity costs of heaters can add up fast.
Clear vinyl enclosures and roll-down curtains can offer a layer of protection from the elements, enabling you to keep your patio open longer. These outdoor restaurant enclosures also help conserve heat and save energy, without blocking the view.
PanoramaFR, for example, is a flame-resistant clear vinyl with outstanding clarity, durability, strength, and flexibility — perfect for outdoor dining enclosures and roll-down curtains.
Summary
Eating outdoors has a long history, and it's now more popular than ever. Creating an outdoor space for your dining establishment can draw in more customers, create ambiance, and show off your business's unique style.