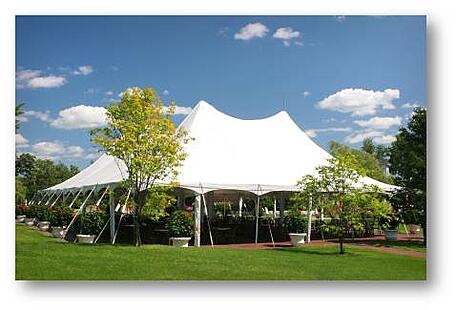 Planning an outdoor wedding or party can be very exciting. With so much to consider, however, it's easy to forget a few key tent rental details. For instance, your tent or shade structure must be able to withstand the elements and keep your guests protected from the harsh sunlight. Have you thought about the opacity of your tent? What about waterproofing in the event of rain?
What should you keep in mind when purchasing or renting that party tent for your event? Here's a quick list of things to consider:
UV Resistance

: This is important. Ultraviolet (UV) resistance will protect your guests from the intense and damaging rays of the sun. Check with your tent company to make sure the structure you're renting or buying is UV ray resistant. If it's not, ask for one that's made with a fabric like

Herculite's

specialty

Tent & Structure

textiles- designed specifically to block the sun.

Blackout Fabric

: Using blackout fabric can help preserve an intimate environment and keep your guests cool. Blackout fabrics are completely opaque, and keep light or concentrated beams of sunshine at bay.

Water Repellant

: Be sure that you consider a water repellent fabric. This will keep your tent dry and free of mold or mildew, and prevent guests from getting wet.

Flame Resistance

: Of course, you don't want your tent to catch fire from a plug or candle -- even if you don't plan on using electricity, ensure that you're investing in a flame resistant fabric. Herculite offers

Showtime® products

, registered with a variety of government agencies, including the California Fire Marshal, NFPA, and Canadian NFPA.

Strength & Durability

: Not all tents are made with the same fabric, some are stronger than others. Remember to use materials that are going to withstand the stretch and pull of setup and dismantling. Punctures, rips and tears can spell disaster for your tent, and ultimately, your event.
Before you buy, remember to consider the durability, opacity, and water, flame and UV resistance of your event tent. For more information about qualities that make for the best tent fabrics, check out our free "Five Factors to Consider When Buying Tent Fabric Material" guide.