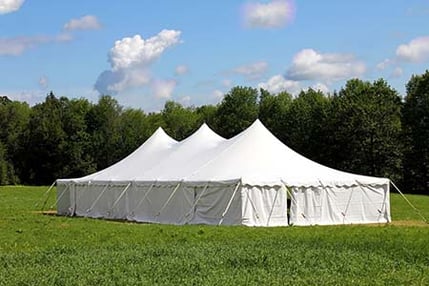 It's wedding season and the planning, waiting, and nail biting are in full swing! When it comes to a summer wedding, an outdoor event is a common choice for couples. An outdoor wedding requires lots of planning, but first and foremost you have to choose the a tent that's right for your event.
An wedding tent is not your typical camping-style pup-tent - they're carefully engineered structures designed for numerous guests. There are several types of wedding tents to consider, but for wedding/event tent rental companies there are four essential types of tents for weddings to focus on:
Pole Tent:

This is a basic fabric structure that is used on grass surfaces. Typically, these are staked into the grass, and are quite simple with open sides.
Pole Tent With Side Walls:

Similar to the regular pole tent described above, these have side walls that allow for a more private look and feel.
Frame Tent:

This option is more versatile than a pole tent, and can be used on multiple surfaces. There's nothing to stake into the ground so these also allow you the option of concrete and asphalt surfaces. The added benefit is that these tents also don't have poles throughout the inside - like pole tents have - which means you have more space to work with.
Frame Tent With Side Walls:

This option is great for privacy and ambiance, it allows you to use side walls to enclose your event. Side walls can also include clear vinyl windows so that guests can still enjoy the sunlight.
These four tent options should be standard in the industry, but don't feel limited: you can offer your clients added features like windows, valances, and more. When you add in a choice of colors for your tent fabric and different shapes and layouts, the choices are almost endless.
Wedding planners and the couples have different tastes, styles, and needs so finding the right tent structure available for them means being knowledgeable about what each type of tent has to offer. It's also essential to understand the different options you have in terms of fabric, because not all tent fabrics are created equal.
Wedding tent fabrics come with a myriad of features. Some are flame retardant, waterproof, UV-ray resistant, and more. As an event tent rental company, using a quality textile in is important because you want to offer your customers the best. Top quality tent fabrics mean the wedding tent you're renting is useful, stylish, and features qualities that set your business apart from the competition.
Couples and Wedding Planners: Things to Consider
Finding the right wedding tent requires some research and thought. Consider whether you want your wedding to be in the morning or evening? Does your outdoor venue have grass? These factors will help you and your wedding planner decide which tent best suits your needs.
It's important to know the number of guests you will have before you rent your wedding tent, because they come in various shapes and sizes. If you want a dance floor, you might want to consider using a frame tent. If you want lots of tables and chairs, a frame tent is also a great choice.
The color of your tent is also something to consider - not all wedding tents are white! Your wedding has a theme and color scheme which means you will want to consider the color of your event tent. Remember that quality tents are worth the slightly higher cost - you don't want a worn, ripped, damaged, or discolored tent at your wedding.
No one would pick just any fabric for a wedding gown or table linens, so why settle for subpar tent material? Quality fabrics ensure that your wedding tent stays durable and beautiful. Download our free whitepaper, 'Why It's So Important for Your Wedding Tent Rental to Have Quality Fabric' today.