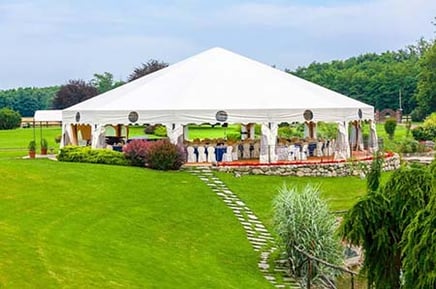 Large-size wedding tents are a centerpiece feature at some of life's biggest events.Large wedding tents are often the first thing guests see when they walk up to your wedding venue. They offer a setting for the most important moments in your client's life; Your wedding tent is where your couple performs their vows, where they cut the wedding cake and dance the first dance.
Wedding planners know how important a wedding tent can be. For this reason, they are often willing to spend for the best.
Most tent rental companies rely on referrals to keep themselves in business. Marriage is a lifetime commitment in most cases, which limits your likelihood for repeat customers. However, wedding planners who get good results from their rental company are likely to come back several times each summer. They may even tell people in their network about your good service. And, of course, a happy bride and groom is the finest advocate anyone in the wedding industry could hope for.
When attracting new customers looking for a large wedding tent, what can you do to stand out from the crowd?
Emphasize Quality
The quality of your wedding tent will dictate your client's experience throughout their wedding, including guest comfort and the quality of shots their wedding photographer captures. Put the quality of your product in the forefront of your pitch to new customers.
[Free Whitepaper: Why it's so important for your wedding tent rental to have quality fabric?]
The materials your tents are made from will play a big role in how well suited they are for keeping your wedding party comfortable, no matter the weather. Wedding tents that are made from low quality materials are likely to under-perform on your most important day. Cheap fabrics usually aren't equipped for proper light management, which causes havoc for wedding photographers. High quality blackout fabric allows wedding photographers to be creative and get the kind of results couples expect.
Cheap fabrics are also more likely to crack and puncture over time, leading to pinholes of light on sunny days that ruin wedding photos like nothing else (and turn into leaks during unexpected downpours). The bigger your wedding tent, the more important fabric quality becomes.
High grade outdoor fabrics are treated with protective coatings to make them waterproof and UV-resistant, which keeps them color-correct and impermeable to unexpected rain. Most are also treated with antifungal coatings designed to prevent mold and mildew from accumulating on fabric between uses.
Keep Your Tents Clean
Nothing takes from the elegant ambiance at a wedding like a filthy, unsightly wedding tent. Tents that are visibly dirty, either on the inside or out, are a very common complaint for wedding planners (one that frequently leads to severed business ties with lucrative and consistent rental customers).
During the busy season, washing your tents after every use can seem burdensome. If you can't reasonably keep up with that cycle, carefully inspect your tents after every use for grime and visible damage. Spot cleaning is better than no cleaning at all.
Also, be sure to keep storage units and transports clean, too. Over time, grime can collect on shelves and inside trucks that will turn into a greasy smudge at the worst possible moment. Maintain your wedding tents regularly to monitor wear that can lead to issues in the long term.
Offer a Variety of Models
Large wedding tents are a major investment. People who are willing to drop considerable revenue into a tent should be given the tent that best suits their needs. Offering tents in a variety of sizes, shapes, and colors allows couples and wedding planners the ability to better curate their aesthetic, as well as meet the needs and expectations of their guests.
For tent rental companies, keeping high-grade tent fabrics in several colors can seem like a storage and maintenance burden. However, companies who are willing to make the investment can offer a broader range of services, which attracts customers with very precise needs and wants.
Select the Right Tents
Helping your clients select the right tent for the job helps instill confidence in the quality of your product. Not every tent model is well suited for different wedding uses. Every rental company should offer the four types of tents for weddings, in a few sizes if possible. Those types include:
Pole tent - The basic structure used on grass surfaces. This variety of tent is centered on a pole and staked down with open sides.

Pole tent with sidewalls - Similar to the standard pole tent with the addition of sidewalls designed to lend additional privacy to the event.

Frame tent - More versatile than a pole tent, frame tents are freestanding tents that don't need to be staked into the ground. They tend to be more open and can be used on concrete surfaces.

Frame tent with sidewalls - Similar to the frame tent with the addition of sidewalls for privacy. Sidewalls can be opaque or made from transparent vinyl to allow for more light.

Work With Your Team to Offer the Best Service
Custom delivery and setup allows couples and wedding planners to take one thing off their wedding day to-do list. Your team will be your company representative on the ground at the wedding. Their appearance and professional demeanor should reflect this fact. Train your people to be knowledgeable, but also hire employees with the understanding that their people skills are as important as their ability to rig up a big wedding tent. For big time events, consider showing up in person to help manage your team.
Weddings are an important source of revenue for tent rental companies. For leaders in this space, offering high quality products and a range of customizations to suit all needs leads to happy couples and bountiful referrals.
It's important to understand how big a difference tent fabrics make when selecting a rental tent for a wedding. Download the free whitepaper to learn more about our high quality wedding tent fabrics.