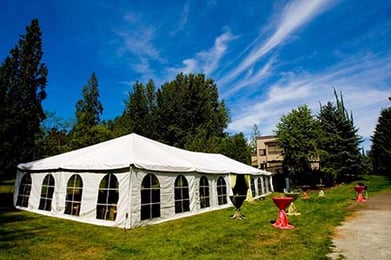 When it comes to planning an outdoor wedding, there are many factors to consider such as theme, location, weather, and most importantly: the tent. People often overlook the importance of wedding tent quality, and the fabric used is the most important factor. The quality of wedding tent fabric can significantly affect the experience of bridal parties, wedding guests, and photographers. But the best tents for weddings are more than just fabric structures; they are pieces of architectural art. Each characteristic of wedding tent material is carefully considered to optimize your wedding experience.
So how do you determine what the best tents are for weddings? A quality wedding tent can't be built with just any fabric or material, and it is important to consider what qualities you need in a tent to ensure you have the best experience possible. There are several factors that make a wedding tent one of the best around. Here's a quick list of some of the features that a great wedding tent should have:
UV Ray Resistance

: If your guests will be outdoors in a sunny location, you will want them to be protected from the harmful rays of the sun. UV Ray resistance prevents degradation of tent fabrics due to prolonged exposure to the sun. Where other materials can crack and disintegrate under UV radiation, UV resistant fabrics can withstand sun exposure, remain intact longer, and protect people from sun rays more effectively.

Blackout Material

: Blackout material is essential for creating beautiful interior lighting in a wedding tent. This factor is often overlooked, but it is vital in producing quality photos. Blackout fabrics block all exterior light so you can control interior lighting and set your desired ambience. Other materials can develop tiny pinholes that let in concentrated light beams and ruin interior lighting and photo quality. Quality blackout materials help produce a prime environment for the best photographs.

Flame Resistance

: At an outdoor wedding, there may be candles, torches, firepits, or other flames near the tent. Flame resistant fabrics help protect you and your guests and prevent potential accidents. You can enjoy the ambiance of your candles and have peace of mind that your decor and surroundings are safe.

Mold & Mildew Resistance

: The company you're renting your wedding tent from rents out the same tents over and over again to countless customers. This means the fabrics have been repeatedly subjected to the elements. When materials are not mold and mildew resistant, unsightly growths can ruin a perfectly good tent. Mold and mildew resistant materials extend the life of the tent and ensure the fabric is in its best condition when it gets to you.

Type of Fabric

: Tents made from polyester vinyl composites (PVC) or acrylic are highly suitable for a range of uses. These materials can be engineered to serve specific purposes and withstand conditions relevant to their intended use. The textile used in a wedding tent is specially designed and developed for that purpose; its characteristics provide the best possible experience for wedding goers.
Understanding and recognizing these qualities to look for will help you determine what wedding tents are the best. An outdoor wedding is anchored by the fabric structure you use, and finding the best one to fit your needs requires some research. Here are some tips for planning an outdoor wedding to help your day run smoothly and comfortably.
No one would pick just any fabric for a wedding gown or table linens, so why settle for subpar tent material? Quality fabrics ensure that your wedding tent stays durable and beautiful. Download our free whitepaper, 'Why It's So Important for Your Wedding Tent Rental to Have Quality Fabric' today.