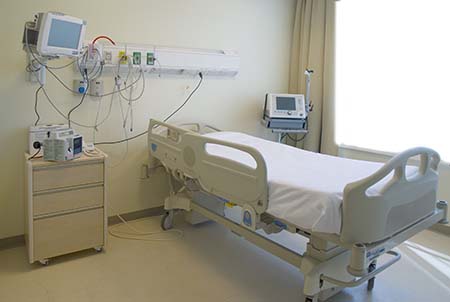 Designing hospital rooms requires a great deal of care and thought. In addition to thinking about what looks best and the feelings a room evokes, designers must take practical matters such as safety and sterilization into account. Designers will need to partner with manufacturers at various times throughout the design process, and who they choose to partner with can affect the final outcome of the product, and the room as a whole, greatly.

While product quality and price range are a couple of important factors to consider when selecting manufacturing partners, customer service and general receptiveness are perhaps the most important.
Process Involvement
It's incredibly important for the manufacturers a designer partners with to be open to feedback and design collaboration throughout the shopping and building process. When you're shopping for a manufacturer, make sure the specs and order size are within the realm of possibilities.

Once you've determined that what you want is possible from the manufacturer, they should be open and willing to collaborate on details. Of course, they are the expert when it comes to their product, so they may have to rein you in on certain details if you're asking for something that just isn't possible, but they should always be willing to discuss and explain the process with you.
Once the design is finalized and the ordering and building process has begun, a good manufacturing partner should be more than happy to share updates and progress reports with the designer. Your dealings with medical fabric manufacturers will often be regarding bulk orders.

Manufacturers should understand that when you're spending a large amount of money with them, they need to be available. Likewise, with any B2B business, the manufacturer understands that every single client is a big deal and needs to be treated with respect and consideration. This is why Herculite is always willing to work with a client as much as possible.
Accurate Results
Being involved with the process helps designers achieve the most accurate results possible. The manufacturers you choose to partner with should fully understand the strict requirements for medical support products when it comes to size, shape, and quality. As the designer responsible for the finished product, it's very important for you to have a hand in every step of the process. Ask to see the designs, ask to see the specs and ask to see samples.

Checking in frequently is the best way to ensure any mistakes are caught as early in the process as possible, no matter where the mistakes cropped up. This leads to better on-time rates for you and lower likelihoods of having to redo work.
In addition to the designer's involvement leading to accurate results, partnering with a receptive manufacturer just leads to more accurate results on its own. Manufacturers with good customer service will ask you more questions, get more information from you before they start anything at all, and are more likely to show you samples along the way and run things by you without making decisions on their own.

It's all about a base level of concern about the client's satisfaction, and manufacturers who are receptive to customer feedback and who have great customer service built in understand that much more than manufacturers who don't.
Fast Fixes
Receptive manufacturers will also be willing to work with you quickly to resolve problems. Rather than pointing fingers and trying to assign blame, customer service-oriented medical textile companies will work with designers to figure out solutions to problems as they arise. Manufacturers who value customer service are very concerned with their clients' happiness and so are invested in making things right.

Of course, having the designer involved in the process from the beginning will ideally help to avoid problems in the first place, which is what customer service-oriented manufacturers know. Herculite's customer service goes hand in hand with our quality, making us a great choice for medical interior designers.


Now that you know a little more about the importance of customer service in the healthcare fabric supplier industry, download our free eBook, "Why Herculite is Uniquely Qualified to Deliver Quality Medical Fabrics" today.