Awning Fabrics
Things to Consider Before Buying Awning Fabric
Finding the right awning/shade structure for your home requires a little investigation into the types of fabric they are made from.
---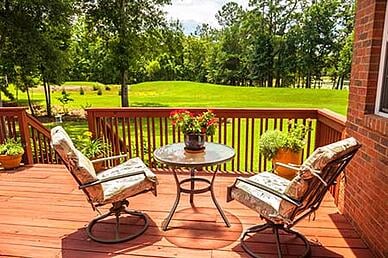 The sun is shining bright. The kids want to play in the backyard. You want to sit outside and enjoy a nice cup of iced tea. But there's one problem; there's no shade. So what should you do?
Putting up a backyard tent sounds like an easy way to protect you family from the harmful ultra violet rays of the sun, but that's not a permanent solution. Plus, the materials used in low-cost products may not have the qualities you're looking for in an awning or shade structure. Some materials can tear easily, not withstand the elements, and are not fire resistant.
Important Awning Characteristics
Finding the right awning/shade structure for your home requires a little investigation into the types of fabric they are made from. Awning fabrics come in several types including but not limited to: cotton or polyester yarn, canvas woven of acrylic, or vinyl-polyester composites. When purchasing fabric for your awning, whether for your home or business, you should consider if the material is:
Ultraviolet Ray Resistant
Fire Resistant
Mildew Resistant
Age, Fade, and Dirt Resistant
Waterproof
East to Clean
Comes in a Variety of Colors and Styles
Herculite Inc. offers a vinyl composite fabric that features all of the above qualities. Herculite's Awning Fabrics are also easy to clean and the fabric stays tight on the frame. All of Herculite's awning fabrics employ unique film formulations, adhesive systems and the company's Core Stabilized Process to insure maximum performance.
Remember, awnings are energy savers. Awnings that don't trap heat and can reduce air conditioning costs by as much as 25 percent. Awnings can also reduce solar heat gain up to 65% on south-facing windows and 77% on west-facing windows.
Climate Affects Your Fabric
Often times, we forget that the climate we live in affects our fabric products. Living in a dry place versus a wet/humid location can change the type of fabric and features you need. Choosing the right fabric for the climate you live in can save you costly repair and cleanup jobs.
Here's a list of climate related issues to consider when purchasing an awning fabric:
Humid climates breed mildew. Consider getting a mildew resistant fabric that's also waterproof and rain resistant.
Dry, hot areas like the desert can lead to fires. Consider getting a fabric that's flame or fire resistant.
In rainy climates, waterproof fabric is a must. You don't want your awning to get weighed down with rain water; it can cause the fabric to sag.
Climates that are sunny throughout the year – like California – call for fabric that is not only fire resistant and UV ray resistant, but age, fade, and dirt resistant as well.
Getting a fabric that has a combination of these features would be an excellent choice for your awning/shade structure.
Choosing Awning Colors
Once you've determined what kind of fabric and what kind of features you want, it's time to consider the color of your awning fabric; it should match the style and color of your home. Lighter colors tend to create an illusion of more open space and will reflect more UV rays. Darker colors can coordinate nicely with the building design and will absorb UV rays.
Finding a manufacturer who can offer a variety of colors and styles is half the battle. That's why Herculite Inc. offers awning fabrics in a variety of colors. Remember, you want your awning/shade structure to compliment your home and add value to it.
For more information about awning fabrics visit Herculite Inc. at www.hercluite.com/Awning.