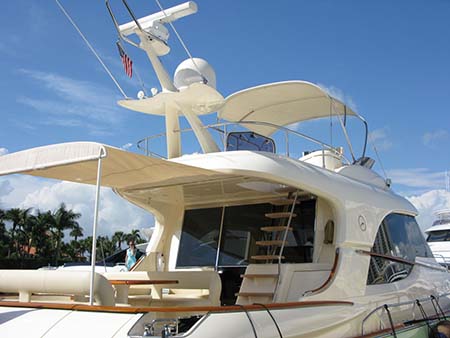 A key accessory that you or your boat customers will want to obtain is a bimini top.

As you know, one of the risks of whiling away the hours on the water is getting too much direct sunshine. A small investment in a marine fabric bimini top can eliminate this risk and at the same time increase your boating enjoyment by providing a comfortable shade while still allowing that cool breeze off the water to flow through.

The quality of the bimini top fabric is crucial to how it will look on your craft and also to how long it will last over time without deteriorating. When looking for the right one, you should have a checklist of important elements the fabric should have.

Key elements to look for in a good marine fabric are:
Soft Texture - Is it easy to handle?
Lightweight - These fabrics should be able to stow.
Controlled stretch for ease of fabrication - You need to be able to shape it to the frame easily.
Environmentally friendly coating - Everyone has to keep the environment in mind!
Easy to clean and maintain - You want something hassle-free to clean (why make more work for yourself?)
Mildew resistant - You are surrounded by moisture and mildew is a challenge you need to keep under control.
Colorfast - If you take the time to pick a color, you don't want it to fade and make your boat look old!
Waterproof - You want it to be a rain shelter as well as a sun shade!
UV resistant - Sunburns can happen even through fabric - it is necessary to have UV protection built into it as well.
Matching Color Palettes - You want to have a large range of colors to pick from to allow the best match and creative design possible for your boat. Remember to keep in mind that white tops reflect heat, and dark fabrics absorb heat.
Easy to Store - You want to be able to put the top away just as easily as getting it out
Excellent Warranty - Any good fabric product will come with a great warranty - be sure to check into this before deciding on which one you invest in.

Fabrics that are made of a Vinyl and Polyester Composite are on the market and meet ALL the above requirements.

You can find these fabrics at companies that specialize in high performance laminated and coated fabrics like Herculite Inc. (herculite.com). Herculite offers a selection of marine fabric products that are special vinyl and polyester composites such as Herculite Riviera Marine Fabric™ or Regatta® Marine Fabric with exclusive Rain Kleen® finish; and Herculite are also able to make custom fabric material to your specifications if need be.

Regardless of where you go for your fabric, if you can confirm that the above criteria is met, you will get a bimini top that will enhance and protect your marine craft for years to come.

Now that you know a little bit more about what fabric works best for your bimini top, download our free whitepaper, "Advances in Marine Fabrics and What They Mean for Your Boat"