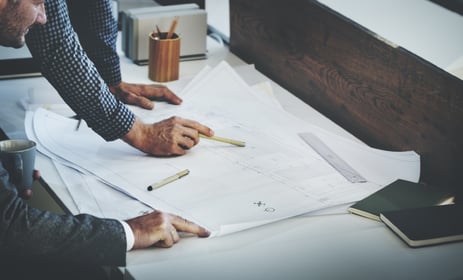 Interest in environmentally-friendly building is growing fast, both in residential and commercial spaces. Many companies will pay a premium rate for green tech in their offices, which is why LEED Certified buildings typically attract higher rental rates (up to 20 percent more).
Smart architects and building designers are making compelling arguments for eco friendly architecture ideas to clients as a way to stand out from the crowd. Solar panels and low flow toilets are a great start, but there's so much more that architects can add to designs that help green up your project.
Whether you're an architect, a property developer, or a small business owner looking to save a little extra money, you can benefit by familiarizing yourself with some key green building concepts and practices. Here are some key vocabulary terms to look into when putting environmental friendliness at the forefront of your planning:
LEED certification. LEED is the world's most widely used green-building rating source, which has now certified more than 80,000 buildings in 162 countries, including 32,500 certified commercial projects according to the U.S. Green Building Council. In the US, it's often seen as the gold-standard for building certification.

Energy Star. Keep an eye out for Energy Star ratings when purchasing materials and appliances. This easy-to-locate badge is awarded by the EPA and Department of Energy to let you know which products come with energy and water efficiency features. Energy Star products also go a long way to helping property owners secure a LEED certification upon project completion.
Carbon neutrality. The goal of green building is full carbon neutrality. Buildings that emit no carbon dioxide into the atmosphere during operation (or, alternately, neutralize or offset their CO2 output using other means) are considered carbon neutral. LEED v4 certification requires buildings to produce more than 50 percent of their electricity using renewable technologies — carbon neutral buildings produce ALL of their energy this way.
Greywater. A popular solution for commercial campuses, greywater systems reprocess water from sinks, drinking fountains, laundry, showers, and other potable water sources and recycle it for use in irrigation, flush toilets, and more. Greywater systems can reduce water use by 30 to 80 percent by doing little more than rerouting water to a secondary use---which is a big deal, considering that an average American family generates 200 gallons of greywater per day according to Houselogic. A lot of designers include greywater systems to keep lawns watered without using additional water (especially in drought-prone areas like the Southwest).


Passive Design
Passive design is nothing new for architects and building designers — prior to the invention of modern heating and cooling systems, a majority of design features in the home centered on managing temperature to meet regional needs.
Today, these traditional tactics are getting a modern update for the sustainable age. Passive design elements use materials in concert with strategic design to use less mechanical energy, all without sacrificing comfort. Some key concepts in passive design include:
Daylighting. Architects who design buildings with large southern-facing windows are using the heat of the sun to passively warm their space. For offices and stores with large windows, smartly managing light and shade using awnings and other window coverings can help passively heat and cool interior spaces.
Heat loss. Heat loss in windows is rated in U-factor, which tracks its insulating value. The lower the U-value number, the better the resistance to heat flow and better insulating quality. Often time you need a minimum U-Factor to apply for tax credits and refunds according to Chief Architect. Selecting Energy Star rated windows when designing a building will help prevent heat loss.
Other building materials are rated for heat loss using R-Value, which measures thermal resistance and is commonly used to rate insulation. A higher R-Value indicates better insulation. This map from Energy Star offers R-Value recommendations for building materials based on where you live.
Solar heat gain. During the summer, direct sunlight on your building works against your HVAC system.

Solutions for preventing solar heat gain are often as easy as they are affordable. A lot of building owners will paint the roof of their building a stark white to reflect the sun's rays and prevent heat islands. Others will install awnings over windows and large glass doors to prevent direct sunlight from directly radiating sun-facing interior rooms. Awnings in particular can drastically reduce your cooling costs, up to $200 annually for private homeowners and even more for businesses with retail storefronts (and potentially more when paired with treated-glass windows).
In commercial settings, awnings can be used to create indoor/outdoor co-workspaces, which studies show can increase productivity and lead to positive health outcomes for employees.
Xeriscaping. More than just a cool word, Xeriscaping is a landscaping technique that uses local drought-resistant plants to reduce water needs without sacrificing aesthetics. Xeriscaping can mean everything from using succulents in warm and dry climates to choosing a local form of grass that doesn't require watering.
Porous paving. Commercial properties require a lot of parking. Traditional paving doesn't allow water to seep through it, which leads to problems with runoff, erosion, and groundwater loss. Porous paving is designed to let water travel through it, leading to a more natural water distribution.
Eco-friendliness is a great add-on for architects, designers, and landscapers looking to attract clients. Building green requires a little forethought and planning, but in the long run the benefits are many. From start to finish, floor to roof and beyond, green buildings are rife with opportunity.
Are awnings actually effective at reducing energy usage Get the answers in our new Ebook: Do Energy Efficient Awnings Really Work? The Science Explained.