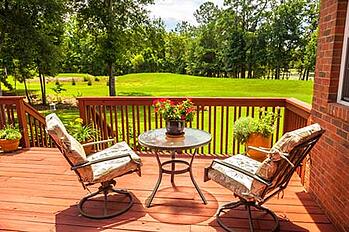 Are you interested in creating an outdoor living space with an awning or simply improving the look of your backyard? Are you looking for shade from the sun only, or would you like to sit outside under the awning during a rainstorm? Do you plan to have furnishings on the patio that need weather protection from both sun and rain?
Backyard patio awnings are a great idea. According to www.awninginfo.com, they can save you money by reducing your home's energy consumption: "Awnings can directly affect energy use by simply blocking the sun…heat gain through windows is one of the main reasons why buildings need air conditioners...In some climates you can save 20 to 25% of your cooling energy just by using awnings." -- John Carmody, Director, Center for Sustainable Building Research, University of Minnesota
There are two types of backyard awning systems to consider: retractable and fixed frame.
A retractable awning is the perfect solution for someone who is looking for shade during hot summer days but who also wants the option to enjoy the sun with the awning retracted or closed. These fabric awnings are designed for shade only; they are not designed for storm protection. Motorized systems are available with sensors that will detect and retract the awning at a predetermined wind velocity. This is a safety mechanism to prevent frame damage from sudden wind gusts. Retractable awnings are available in many styles, colors and qualities. They are a great addition to the home.
Fixed frame awnings are permanent structures that are typically engineered with steel pipe or aluminum tube. The awning fabric is fastened to the frame using rope or staples making it stationery. Removing the fabric cover is still possible but is labor intensive. The frame is designed to stay in place with or without fabric. Fixed frame awnings are engineered for wind load and meet building code guidelines. These structures are sufficient for all weather protection, allowing you to enjoy the backyard even during a rainstorm. People and furnishings stay dry and protected.
Regardless of frame system, if you are looking for waterproof sun protection and an awning that's cleanable and easy to maintain, you will want to choose a vinyl awning fabric like Coastline Plus or Natura by Herculite.
Do you have any personal experience with backyard awnings that you can share?