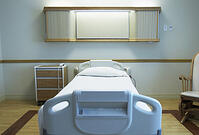 Hospitals are a conglomeration of equipment and technology. But one thing we often take for granted is the simple curtain that we all use for privacy during a doctor's visit or a hospital stay. Choosing the right medical fabric is important and takes time and consideration to find the right one.

Some things too keep in mind before purchasing a medical curtain:
Medical curtains need to meet the National Fire Protection Association (NFPA) 701 fire code; basically they need to be fire retardant. Curtains should have open mesh at the top which allows water to pass through during a fire.
Medical curtains should also be antimicrobial. A concern related with hospital curtains.
When considering the type of fabric you want to use for your curtain, remember to choose a product that is antimicrobial. Though, not required by law, using antimicrobial curtains can help the fabric resist supporting bacteria. Medical curtains have been to known to carry germs that can cause Hospital Acquired Infections. MRSA (Methicillin-resistant Staphylococcous aureus) is just one of many various infections that can be caused by HAIs so it's important to choose a fabric that reduces the risk of patient infections.
Using fabrics that are easy to clean is also important in helping to reduce the risk of spreading germs and infections.
Finally, using functional, comfortable, and aesthetically pleasing fabrics is important.
Choosing fabrics that are fire retardant, antimicrobial, and fashionable can be difficult. So where can you find quality products that fit your needs?
Herculite offers a myriad of fabric products that meets the NFPA fire code and offers features such as antimicrobial and easy to clean surfaces. Herculite's Sure-Chek Linen® products are easy to wipe down, durable, stain resistant and can be disinfected.
Herculite's antimicrobial surface protection system Sure-Check® also protects fabric from bacteria for the life of the fabric. Herculite offers a range of colors and designs that can enhance the look, comfort, and feel of a room.
Here's a list of the qualities that Herculite's Sure-Check Fabrics offer:
Flame and Stain Resistance
Sure-Chek® fabrics resist combustion and will self- extinguish when the source of flame is removed. Most oils, greases and contaminants may be wiped off with soap, water or mild cleansers. Curtains are easily cleaned in place and maintain a fresh look.
Antistatic and Odor Resistant Properties
Sure-Chek® fabrics are specially formulated with an enduring antistatic property, "Anstat®." It prevents the build-up or retention of electrostatic charges that could interfere with the functioning of sensitive life support equipment. The fabrics are also treated to resist bacterial odors.
Antimicrobial and Durability
A controlled release system continually sends the antimicrobial agent to the fabric surface. This built-in protection lasts the life of the fabric. It is not a superficial treatment. Sure-Chek® fabrics are incredibly strong, withstanding severe wear and abuse. Extra strength and tear resistance mean extended curtain life.
Sizes
9 colors 72" fabric width, 100 yds. per roll.
The next time you're in a medical facility for a visit, take a look at the medical curtains surrounding you; it's more high tech and versatile than you thought, plus it's still pretty to look at.
Visit http://www.herculite.com/ for more information about medical curtain fabrics.