Healthcare Fabrics
Adjustable Hospital Bed - Seven Tips
Now that you know a few things to consider before purchasing an adjustable bed, remember to use the right mattress fabrics
---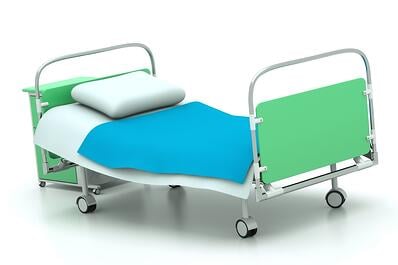 This blog article was submitted by Leslie Haddad, Business Manager at Herculite Products, who has over 20 years of experience in textile development and innovation. Email contact: lhaddad@herculite.com
For people with health conditions like arthritis and circulation and respiratory issues, an adjustable hospital bed can help make the evenings a little more comfortable. But what should you know about the bed and the mattress fabrics before you make that purchase?
Adjustable hospital beds are available in a variety of sizes. These beds use a motor to allow for the head or foot part of the mattress to move up or down. Contrary to what you might be thinking, an adjustable hospital bed is great for in-home use.
But before you take that step and buy one, here are some tips:
Consider the size of your bed/mattress. You can get up to a king size.

What's the weight limit of your bed? Remember, some mattresses can take a heavier load than others. Some motors can lift quite a bit, up to 400 lbs. but remember, if you're sharing your bed with a loved one, you'll reach your limit fast.

What type of features are you looking for? The base function of an adjustable hospital bed is just the up-and-down movement, but remember you can also get massage, different types of range of motion, and remote or wired/wireless functions. You can also get a motor that is quieter or a little bit louder. Adjustable beds operate using either an AC or DC motor. Most come with an AC but if you need more power and weight limit capabilities then a DC motor might be right for you.

What kind of fabric material will you use in your mattress? Not all beds use the same material and for an adjustable hospital bed, there are a variety of options. For example,

Herculite Inc.

offers its

Sure-Chek

line of medical fabric products which feature hypoallergenic, odor resistant, flame retardant, stain, fluid and moisture resistance, and antimicrobial properties to protect the fabric. Remember, you're going to be spending a lot of time in your bed and getting the right fabric will make a difference in the longevity of your investment.

Look for a good warranty. Make sure you get a warranty on your motor and bed.

If it's possible, try out beds and see what fits your needs by visiting your local mattress store. Remember, this is an investment you want to make sure is comfortable and lasts.

Finally, find a place that will deliver your bed.
Now that you know a few things to consider before purchasing an adjustable bed, remember to use the right fabric for your mattress. Herculite Inc.'s Sure-Chek line of specialty fabric products are the original healthcare fabrics that were patented for use as protective covering fabrics and today are the standard in the industry. Sure-Chek medical fabrics are comfortable, safe and effective. These thermoplastic fabric composites are strong, durable, antimicrobial to protect the fabric, antistatic, flame resistant, stain, odor, fluid resistant, and resistant to popular disinfectants when used as directed.