Antimicrobial Fabrics
Characteristics of High Quality Antimicrobial Textiles
Antimicrobial textiles are hugely important when it comes to patient safety, but only if they meet certain quality characteristics.
---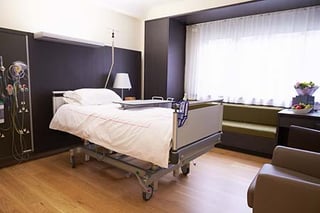 Did you know that a hospital acquired infection (HAI) occurs in about one of 25 hospitals every day? According to the most recent data from the Centers for Disease Control & Prevention (CDC), there were 721,800 HAI infections in 2014; this is the most recent data published in 2016 by the CDC. While that number might be high, it's still an improvement over years past, according to a CDC progress report.
While the increase of preventative measures has helped reduce the number of HAIs over the years, the work isn't over yet. HAIs are still a threat to public health, according to the CDC. That means hospitals still have to use preventative measures to control HAIs.
Hand washing, disinfecting, and using cleaning procedures and processes are just a few of the things hospitals do to help prevent HAIs. Another important preventative measure that helps reduce HAIs is the use of high quality textiles that incorporate antimicrobial fabric protection. But what is a high quality fabric that incorporates antimicrobial protection? Aren't they all created equally? The answer is no.
Before we go on, it's important to understand how fabrics that incorporate antimicrobial protection generally work. Here's a quick explanation:
Antimicrobial fabrics are designed and developed to inhibit or destroy the growth of microorganisms, which include things like bacteria and fungi.

Additives are used to coat the fabric, are incorporated in the makeup of the product, or are actually woven into the fibers of the

textile. Silver and silica are also used as antimicrobial substances in textiles.
Antimicrobial fabric protection is created with a variety of features and are used in multiple healthcare settings including at the hospital, in surgical rooms, at home, in hospice care facilities, and even in ambulances and other medical transport vehicles; really the list goes on and on. You might see antimicrobial fabric protection in things like:
Beds

Sheets and Blankets

Curtains

Gowns

Medical devices

Rehabilitation products

Surgical towels
High quality antimicrobial fabric protection includes more than just chemical coating and use a variety of special characteristics essential to prevent microbes from developing on the surface of the fabric. So what is a high quality antimicrobial fabric protection product? An example would be the Sure-Chek® line of healthcare fabrics from Herculite Inc. Sure-Chek includes more than just the standard antimicrobial finish; the textile features things like:
Durability

Antimicrobial resistance using a slow release system which protects the surface of the fabric for the life of the product.

Antistatic

Flame resistance

Resistance to odors, stains, and fluids

Hypoallergenic

REACH compliant

Thermally conductive
Using a combination of special characteristics in medical fabric help prevent microbe surface spread and HAIs better than using a non-specialty fabric or using a textile that features only antimicrobial resistance. Put simply, more protection is better. That's why using a high quality medical textile with a proven antimicrobial fabric protection system is so important.
Now that you know a little more about the importance of antimicrobial textiles, download our free eBook, "Why Herculite is Uniquely Qualified to Deliver Quality Medical Fabrics" today.