Awning Fabrics
Cleanability - The Magic of Vinyl Awning Fabric
Vinyl awning fabrics will provide many years of service if properly cleaned and maintained. Heres how...
---
This blog article was written by Craig Zola, Business Manager at Herculite Products, who has over twenty (20) years of experience in textile development and innovation. Email contact: czola@herculite.com
News flash: If you have outdoor awnings, they will get dirty and require cleaning. You have two choices: either hire a professional to clean and maintain the awnings, or clean them yourself about twice a year. You can be sure that ignoring them is not a good strategy if you want the fabric to outlast the warranty.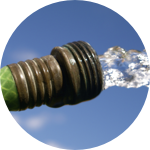 Vinyl awning fabrics like Coastline Plus®, Patio 500®, Vanguard®, Natura® and Weather-Chek® will provide many years of service if properly cleaned and maintained. These fabrics are waterproof, mildew, stain and dirt resistant. Each of these top choice awning fabrics have top coat surface treatments that further enhance product longevity and assist the owner in the cleaning process.
Unlike woven acrylic or polyester fabric, when vinyl awning fabrics are properly fixed to an awning frame, they will retain a trim fit that is not affected by moisture or temperature. Reinforced vinyl awning fabrics are superior in dimensional stability. Vinyl awning fabric that is properly fastened to its frame will maintain both its functional protection and aesthetic value. Since all outdoor fabrics and furnishings are susceptible to environmental degradation, proper maintenance is very important.
Awning Maintenance Suggestions:
Keep it clean. Occasional hosing with clear water will prevent dirt accumulation. Most dirt accumulation can be removed by mild soap, water and a soft scrub brush. Rinse thoroughly. In extreme cases, most dirt can be removed by applying half strength bleach and by brushing softly to cover thoroughly the necessary area. Allow solution to remain for two or three minutes, then thoroughly rinse with clear water, protecting surrounding materials or plant growth that might be damaged by the bleach.
In areas particularly conductive to mildew, brush away any visible accumulation of dirt on underside. Mildew can grow on dirt but does not grow on or attack the vinyl itself. Underside mildew can be removed with a light duty power washer (maximum 1800 PSI). Care must be taken not to damage the vinyl awning fabric with the pressure water intensity at close range. If you get too close, you will put a hole in the fabric. Test an inconspicuous area, and maintain a minimum safe distance between the nozzle and the fabric surface of at least 12 inches.