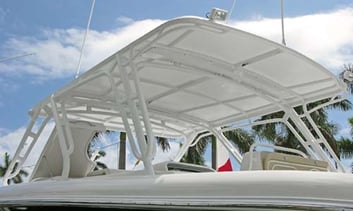 Your boat is a major investment, so keeping it clean and in good order is important. One way to ensure your boat stays in great shape is by making sure its upholstery, cover, and shade top are ultraviolet (UV) ray resistant.
Most of the harmful UV waves coming from the sun are absorbed by our ozone layer, but some do get through. These rays damage fabrics and objects by degrading their color and breaking down their fibers. Boats are more susceptible to UV ray exposure by virtue of the fact that they are out all day in the sun and are stored in outdoor areas.
Like an awning fabric, or even sunglasses designed to protect your eyes, UV ray resistant boat fabric is designed for both protection and style. A boat cover provides you with peace of mind when it comes to keeping your boat clean and protected from the sun's harmful UV rays.
But how can you make sure your boat cover is made from a UV ray resistant fabric? Here are a few steps you can take to ensure you're using the right textile:
Talk to the manufacturer or project manager designing your boat and ask them if they're using UV ray resistant fabrics, not just for the boat cover, but also the

upholstery

and shade top as well.

Carefully read the specifications of the fabric you're choosing for your boat. Your textile supplier will have a card or other type of information you can refer to when ensuring you have UV ray resistant boat cover fabric.

If you already own a boat cover and can't tell if it's UV ray resistant, check the color of the fabric. If the color is fading quickly and the fibers look worn but your boat cover is just a month or two old, odds are good that it isn't UV ray resistant.
Remember, not all boat covers are made equally. Doing your research and talking to your boat manufacturer can help you find the right UV ray resistant boat cover. Keep in mind your local environment and weather patterns. If you're storing your boat at a marina where the sun is always shining UV resistance is especially important.
For continued success in selling boat canvas fabrication services, it's time to consider marketing efforts. Are you working in line with best practices to connect with potential consumers at each decision stage? Download our free guide to learn more, and to establish a plan for consistent growth.