The Pre-AC Days - Windows Open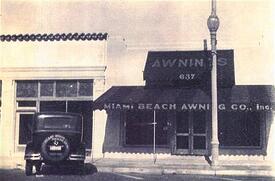 Before air conditioning, homes, schools and commercial buildings were designed for maximum air flo and windows were large and abundant. The architects determined long ago that rooms with high ceilings stayed cooler in the summer months because the heat would rise and stay trapped in the area between the tops of the windows and the ceiling.
Canvas window awnings became popular in the early 19th century and were typically built with timber or cast iron frames. The common fabric used in the early days was cotton duck, the standard in tent and sailmaking. On cloudy days the canvas was typically rolled up to the building and held in place with rope.
Window Awnings grew in popularity as textile mills looked for new markets after much sailmaking business was lost to the Steamship. The mills pushed, the sailmakers reacted and the awning industry was born in the late 1800's
The AC Revolution - Windows Closed
By the time air conditioning became affordable and popular, window awnings were being used everywhere. Home owners and business owners realized the energy reduction benefit of shade in the area of a window.
The awareness grew to include the patio area. Using the same frame technology, a large patio area could be covered by nothing more than an expanded window awning and turn an outdoor patio space into a pleasant living area.
The 21st Century Awning
Today window awnings are available in a variety of styles; stationary or retractable, woven fabric or vinyl and offer an incredible variety of colors. Awning companies can design and build virtually any shape frame and attach fabric to it. But the same quality holds true today that made window awnings so popular many years ago. Window awnings provide shade and reduce energy costs.
The UV resistant quality of the textiles has improved greatly over the years as well. Most awning fabrics are fire resistant and carry a five (5) year warranty against rot, mildew and fading. There are different types of fabric to choose from.
Vinyl Laminated Polyester
Woven Acrylic solution dyed Fabric
Coated Polyester
Vinyl Coated Polyester
Each of these choices offer the consumer unique qualities to fit each and every window awning application. Vinyl laminated polyester and vinyl coated fabrics are water proof and extremely strong. Woven acrylic and coated polyester fabrics are esthetically beautiful. All choices are very durable against sun degradation.
Bottom Line Energy Savings
Window Awnings reduce energy costs. The US Department of Energy states on the Energy Savers Website that, "Window awnings can reduce solar heat gain in the summer by up to 65% on south-facing windows and 77% on west-facing windows. You can use an awning to shade one window or have an awning custom-made to shade the entire side of your house"
"A small, horizontal awning will completely shade a south-facing window during the summer. An east- or west-facing window needs an awning that extends down to cover a large percentage of the window. Sideless awnings, called Venetian awnings, can be adjusted as the angle of the sun changes. Venetian awnings, however, are usually not effective at blocking direct sunlight on south-facing windows. Hood awnings with sides added to block out additional sun are more effective. Hip awnings project out and down to accommodate casement windows that open outward".
Herculite Products - Proven Fabric Performance
Herculite Products has been developing textiles for over 70 years and manufacturers a variety of vinyl fabrics that offer specification qualities for both commercial and residential awnings.
Coastline Plus
Patio 500
Natura
Vanguard
Canopy FS
All of these fabrics are available in a variety of colors and sample brochures are available by request. Click for samples below: