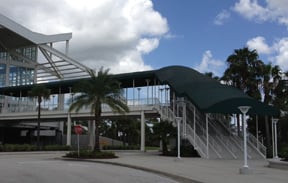 The October Project Spotlight is located at the Orange County Convention Center. This is the location of the IFAI Specialty Fabrics Expo 2013.
This Entrance Canopy Project was fabricated by Sundance Architectural Products in Orlando, FL. It features two large entrance canopies using Herculite Natura 7711 Evergreen fabric. Because of its size, the client was looking for an architectural awning material with commercial grade qualities such as high strength, FR compliance and a fabric that offers a waterproof covering for the stairs and bridge areas.
Herculite Natura 7711 Evergreen was chosen because of its high quality woven fabric look and feel as well as its complement to the building's architectural color scheme. These outdoor canopies give people the ability to enter the convention center protected from the intense Florida UV rays or rain.
Project Name: Orange County Convention Center, Orlando, Florida
Fabricator Name: Sundance Architectural Products in Orlando, FL
Fabricator Website: www.sdap.com
Increase your exposure to Architects and Specifiers around the USA. Each month Herculite will feature an awning or shade structure made with Herculite Brand Fabrics and post the project on our Website exposing you and your company to thousands of our Website visitors. Submit your projects today and increase your exposure!
Email Your Photos and Project Description: czola@herculite.com
Thank you for your business!
Craig Zola 954-647-7726
Business Marketing Manager Herculite Products Inc.
Click for more information about Natura Awning Fabric