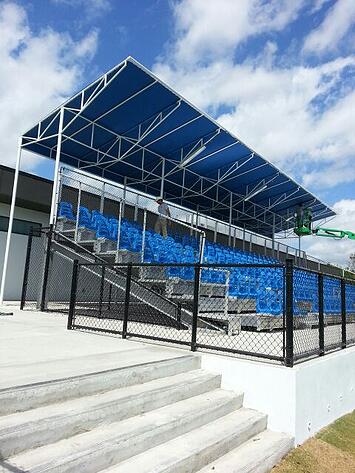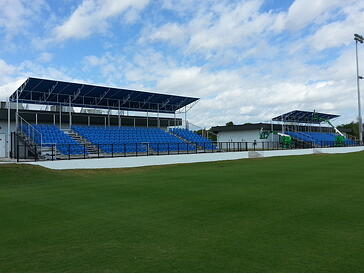 PROJECT SUBJECT: Bobbly Campbell Soccer Stadium at Lynn University - Boca Raton, Florida
This Awning Project Spotlight was submitted by Miami Awning Company. This project features (2) large 66'-2" x 15'-3"specially designed canopies for the Bobby Campbell Soccer Stadium at Lynn University; Boca Raton, Florida using Herculite Coastline Plus fabric. [CP 2746 – Ocean Blue]
---

PROJECT STORY:
Quality fabric and a trusted source are top priorities when it comes to choosing the right supplier for a canopy project. For Miami Awning Company, that was the easy part. The fabricator has a long standing business relationship with Herculite Inc.
"We've always used Herculite," said Anita Martin, Miami Awning Design Coordinator. "We've had confidence in Herculite throughout the years in both residential and commercial products and we've been in business since 1929."
So when Miami Awning was contracted to build a project for Lynn University, it was a no brainer. The school asked Miami Awning to construct two large 66'-2" x 15'-3" specially designed canopies for its Bobby Campbell Soccer Stadium. However, the school had a particular request; they needed fabric that matched the school's team colors. The challenge wasn't hard for Herculite Inc. whose Coastline Plus fabric comes in a variety of colors.
"Using Herculite's Coastline Plus, Ocean Blue canopy fabric matched the colors of the school," Martin said. "That was one of the reasons for selecting that fabric."
Herculite's Coastline Plus product comes in over 100 styles in solids, mono and multicolor stripes, texture, floral and geometric prints on lining. The fabric is also water-proof, tight on the frame, and is inherently fire resistant. Miami Awning used 120 yards of the age, fade, dirt and mildew resistant material.
"Herculite has great colors," Martin added. "I remember even on one project Herculite was the only one who had pink for a historic hotel, the client was very happy with that!"
Before Miami Awning installed the two-canopy project at the university, the school only had two fold up mesh-type covers. The school wanted more than just mesh and needed weather protection, shading, a modern design, and specific colors. Herculite's Coastline Plus fabric was a perfect fit.
The two-canopy project at the soccer stadium provides protection for up to 500 spectators. The modern design of the canopies compliments the stadium and Lynn University officials were pleased with the results.
"Lynn University faculty, students, athletes, alumni and spectators are thrilled and excited with the outcome of the project," Martin said. "Numerous events are scheduled throughout the year and now they can be enjoyed more comfortably. These canopies perfectly shade and cover the area for the late afternoons when the sun is at its hottest. They make an architectural statement, while providing protection from rain, as well as UV protection too."
Herculite Inc. provides specialty fabrics for not only the awning industry but for the tent and structure, graphics and media, military, marine, and healthcare industries. Herculite has been in business for more than 60 years.
"We have enjoyed working with Herculite and will continue offering their fabric products to our clients," Martin said. "I would also highly recommend them to others."
---