---
Awning Project Subject: We Ko Pa Golf Club
Awning Textile Subject: Vanguard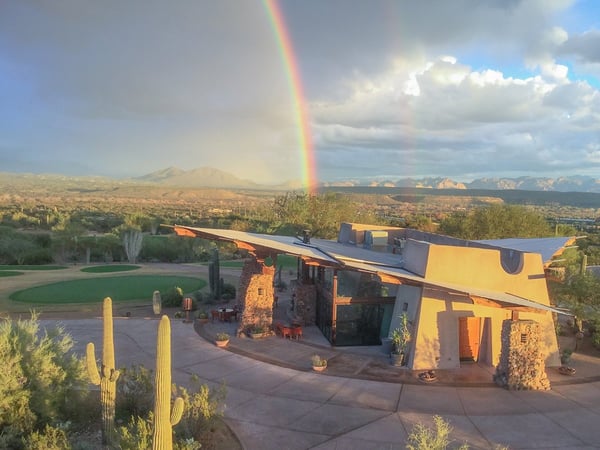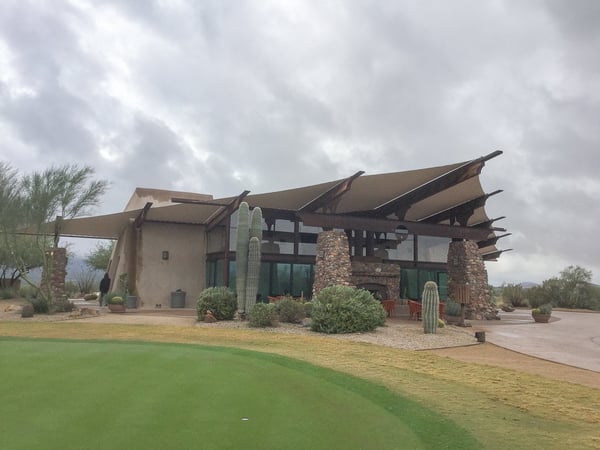 Project Name: We Ko Pa Golf Club

Fabricator Name: Sun City Awning
Project Designer: Leroy Howard
Location: Fountain Hills, Arizona
Fabricator Website: http://www.suncityawning.com
---
Project Story:
This Project was submitted to us by Sun City Awning in Surprise, Arizona. It features large triangular flat panel fabric structures that are designed for shade from the desert sun and the occasional heavy rain. But most importantly, the structure was designed for the architectural aesthetics that complement the golf course and desert surroundings. The client was looking for design structure and fabric durability and a waterproof covering that would protect the outdoor seating.
Herculite Vanguard awning fabric was chosen because it was the best choice of fabric for speed of production, durability and longevity. The 8-year manufacturers warranty gave the client confidence and piece of mind on the investment.
"We ended up welding the seams and sewing the perimeter. Grommets were 8" on center. We had one that held water after a big rain. It held probably 300+ pounds of water ( I couldn't lift it to dump out the water, and I'm a big guy) but the welded seams held and the grommets held nicely. I tightened it up and the sun took out the stretch wrinkles from the water and you can't even tell now and we haven't had any issues since."