Fabric Industry
Interview with Sy Hyman, Herculite Founder and Retired CEO
Sy Hyman, company founder and retired CEO of Herculite® shared with us some insights about the challenges of marketing laminated synthetics with a start-up company when no market existed.
---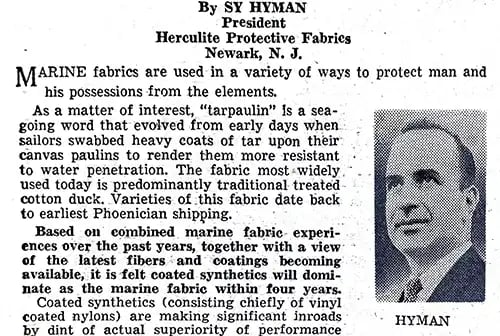 Sy Hyman, company founder and retired CEO of Herculite®, is a long-time member of IFAI and became an Honored Life Member in 2014. He shared with us some insights about the challenges of marketing laminated synthetics with a start-up company when no market existed: about learning from customers, production mistakes, and inventing sales techniques for new materials. These are some tips garnered from 60 years of practical experience.
Sy Hyman - Inventing the Game
Original Article by Bruce N. Wright - Specialty Fabrics Review Magazine December 1, 2015 - Reposted By Permission
What would you say was the game-changer back when you first started your company in the 1950s?
The Herculite Company was started in 1954 with five and a half employees (four workers in the manufacturing shop, myself and a half-time high school student who answered phones and did office paperwork.) Having spent time in the U.S. Navy, and after the Korean War serving as a reserve submarine officer, I had encountered the use of synthetic fabrics being tested and used in military applications—and I was amazed at how the synthetic materials had such an advantage over the more traditional cotton canvas fabrics.
I also did personal research in polymers and coatings of synthetics after receiving my Master's in industrial engineering and management. The synthetics were stronger, lighter, naturally waterproof and more durable. I decided that it would be smart to go into the business of laminated synthetic fabrics, and was one of the first in the country to do so. (At that time only U.S. Rubber Corp. had a laminator similar to ours.)
As the only competitor to companies like U.S. Rubber, did that give you a corner on several markets?
Had I known then the inestimable challenges for a start-up selling synthetic fabrics for coverings to the industry, I would never have undertaken it! In a sense, introducing a new product category [in industrial fabrics] was similar to Steve Jobs introducing the personal computer; before anyone can appreciate why they should purchase a new product they've never seen before, you had to create awareness and carefully explain why they should want it. We had to discover how to reach the industry and convince them of the value of the product.
To illustrate, early on I talked to the foreman of a Con Ed [Consolidated Edison Co. of New York] repair crew in New York City working under a canvas tent on a major street thoroughfare. I took him a sample of our laminated fabric and explained the advantages. He enthusiastically noted about seven or eight major advantages over the cotton canvas currently in use for the city maintenance tents. This encouraged me to take the product to a meeting with a Con Ed buyer who also admitted the advantages—until the question of price came up. He laughed me out of his office, saying: "Son, while buying canvas covers we have used over many decades, do you expect me to buy your new product and pay more than twice the price!?"
What did you do? How did you get past that rejection?
I followed up with a call to visit the underground engineering department. They shared the foreman's enthusiasm for the new product and also had the same response to cost. I followed that up with a letter and samples of the material, saying "Con Ed can't afford not to try it." With every letter we sent out to prospective clients, we enclosed a sample swatch of Herculite with a cut into it (to show the laminations) and a challenge to the customer: "Try to freeze, burn or tear this sample." And they couldn't!
Shortly thereafter, Herculite received a trial order from Con Ed for a half-dozen tents to be used and evaluated. A year later, based on the overwhelmingly positive product performance, Con Ed standardized its purchases on the new synthetic product.
One thing I learned: It is key for the company to maintain quality control of manufacturing processes and absolute control on costs. Why? Because it is much less a problem to deal with quality before you ship product than to deal with it after the order has been filled. The bad impression left with a customer from a product that fails to live up to standards is much harder to overcome than problems of control before it's sold.
Any other business lessons you'd like to pass along?
Yes! It is essential that the owners and sales force be in constant contact with the customer, at least every six months. This is one of the best ways to learn how your product is being used in real situations, and it can open up new markets never dreamed of. One example from our experience comes from a client using a fishing boat off the Pacific Northwest coast to capture and tow a killer whale to bring it to Seattle without harming it. "Nomu" is the whale's name, and the product was used to create a floating stockade to coral the whale and keep it hydrated. It meant the fabric needed to be submerged in the salt water and yet keep the water in for long periods.
Another example is the creation of a waterproof roadway made from the laminated polyester product that covered ashes and marshy areas near the Suez Canal, to allow vehicles to cross over the soft land to transport casualties and wounded people to a hospital in Israel. So, a product can be used by people in new ways, opening up new markets.