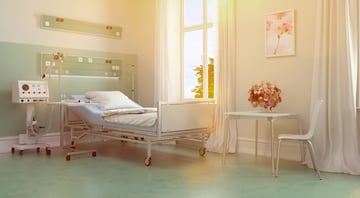 There was a time which single- or two-patient rooms were considered a luxury, something for healthcare facilities to use as a marketing tool. Today, these sorts
of rooms are becoming the industry standard with many hospitals and healthcare organizations changing to meet the expectation. It's important to make the right decisions for your organization and patients when undertaking major changes at your facility.
There are over 35 million hospital admissions annually in the United States, and the average stay is almost five days. Emphasis on patient comfort has reached a new high due in part to the length of stays and the nature of the visits. This emphasis on patient comfort as well as the sustainability, aesthetics, and cost-efficiency of the hospital presents designers with a new set of challenges.
There are many ways to tackle these challenges. For instance, when Langlade Hospital planned to build a new facility, it split into 25 separate "innovations teams," each addressing a different aspect of the redesign. No matter the approach you take to planning your hospital rooms, there are some practices that should always be followed. These three suggestions have the greatest impact on patients and contribute significantly to their comfort, safety, and privacy.
Use High Quality Bedding Materials
The role sleep plays in our quality of life is well-documented. Being comfortable in bed is particularly important to patients at healthcare facilities. Many spend much of their day in bed and the quality of bedding materials plays a major factor in their comfort level. Maximize the care your facility provides by identifying ways to improve the beds, from the frame to the fabric.
[Free eBook: Mattress Fabrics 101: What You Need to Know]
First, consider the type of bed frame your facility will offer. Manual bed frames are less expensive and can be easier to maintain but they have many limitations. Electric hospital beds have more positioning options and are easier for your staff to move and operate. Other factors to consider include whether the frame has powered transport capabilities, side rails that don't impede lateral transfers, and built in storage for important medical devices like oxygen tanks and IV stands.
The mattress is the next consideration to take. One goal of hospitals is preventing pressure ulcers in long-term bedridden patients. Low-tech features like zoning and cross-cutting are one way to combat this dangerous occurrence, while more advanced options like an air-surface mattress are also available.
The fabric is the final aspect to consider. Herculite's Sure-Chek is a thermoplastic fabric that's developed with a controlled-release antimicrobial system. This system lengthens the lifespan of the material by using "slow-release" technology. The Sure-Chek system periodically releases a specially-formulated anti-microbial system into the material. In addition to being anti-static, stain resistant, and odor resistant, the bedding is also fire-retardant and self-extinguishes after the flame source is removed.
Ensure the Bathrooms Are Hygienic and Accommodating
Bathroom placement and accessibility are also important factors to consider when designing a hospital room. Patients may spend most of their time in bed, but a clean, easily-accessible bathroom contributes to a greater level of patient comfort. Designing the room to be free from clutter prevents trips and falls, which can be very dangerous for elderly or frail patients.
Anti-microbial elements must be incorporated into the design of the hospital room bathroom. Due to the abundance of warmth and moisture in the bathroom, it can be a breeding ground for dangerous bacterial and viral infections. Like the Sure-Chek bedding, Herculite's curtain material is ideal for hospital showers because it is antimicrobial, fire-retardant, mildew-resistant, anti-static, and odor-resistant.
Aesthetics should also play a role in designing hospital rooms. Colors such as green and blue promote healing, while busy patterns are not recommended for older patients or those with dementia. Herculite fabrics offer a vast range of color choices and pattern options, allowing you to tailor your hospital rooms to fit the specific needs of your facility.
Improve Accessibility for Patients and Hospital Staff
Accessibility plays a major role in the comfort of hospital patients. According to a study by the Journal of Health Environments Research and Design, patients prefer rooms that give them the ability to control their environment. These controls include being able to adjust the lighting or the temperature of the room, or being able to control a privacy curtain to shield them from the hallway when desired.
Another critical accessibility concern that has been expressed by patients is the ability to connect with the world around them. Being in the hospital can be an isolating experience, especially for long-term patients. Designing the rooms to allow patients to connect with their loved ones and the rest of the world is a major factor in improving their comfort.
This means designing beds that allow patients to sit close to their visitors and have an eye-level conversation. Room designers should also consider the patient's ability to access and use phones or other personal technological devices like laptops or tablets. The location of electrical outlets and USB ports should be carefully considered when designing a hospital room.
Hospital room design can be directly connected with patient satisfaction. Want to learn how? Contact us today!