Awning Fabrics
3 ways to maximize awning energy savings
The type of awning fabric matters because it can determine the cooling or warming effect felt by people indoors.
---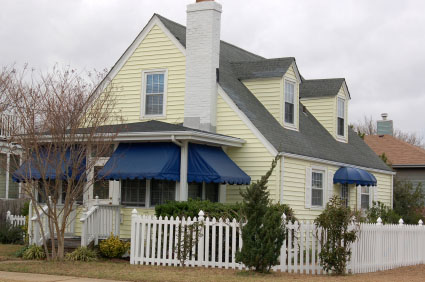 You have always wanted to enjoy the outdoors without having to be scorched in the hot sun especially during warm summers. To begin thinking about awnings, it is necessary for you to understand which house direction has shade and how the trees help in creating shades. This is important because you can then determine where you want to place awnings. Awnings can be very helpful in saving you air conditioning energy costs from the sun's rays heating up the inside of a home. Awning energy savings can be influenced by the type of fabric that is chosen.
The type of awning fabric matters because it can determine the cooling or warming effect felt by people indoors. The Herculite Natura is a waterproof vinyl awning that has the look of woven fabric on both sides. This gives it a designer quality look and maintains its fire resistant and water proof qualities. This type of awning is also ideal for outdoor restaurants as they can enable people to sit outside enjoying warm weather but still not under the direct rays of the sun. Dining outside then saves management of the establishment the need to turn on air conditioning units or heaters which saves electricity.
The sun's rays on average increase temperatures inside your home by more than 20 percent. You can lower your electricity bills as much as 35 percent when you use awnings made of Herculite fabrics. The awning energy savings may even be more in the summer especially if one places them on west facing windows. This can eliminate a lot of dependency on air conditioning units for cooling the inside of the home and save you hundreds of dollars annually. If all homes used awnings to help lower the load on ACs, the overall cost of power usage in all the houses would be greatly reduced.
Heating the home in the winter can be very expensive but if you use roller shade awnings, then they can lower the amount of electricity power that goes into warming your home. The retractable awnings can allow the direct sun rays to heat the home naturally so that you may only use other sources of power for few hours. Between 10:00AM and 3:00PM, you can have the sunlight take care of heating you and even after these hours, the heat may still be felt.
Awning energy savings may also be realized if you choose fabric that is light in color such as white so it can reflect back the rays of the sun and at the same time reduce the need to turn on the air conditioner. Awnings that are dark in color absorb heat which may be ideal for areas that are cold but still get a lot of light through the windows
You can experience awning energy savings that go a long way to reducing your energy costs. A good source to find professional awning contractors is www.awningstoday.com Contact your local awning manufacturer or contact us and we can send more information including fabric samples.