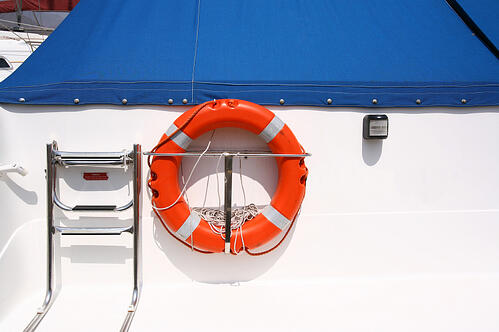 Boats and marine fabrics are as susceptible to trends and fashion as any other industry. Customers want fabrics that are priced competitively, look good, last a long time and are easy to clean. It's not easy to satisfy all these demands in the challenging marine environment, but innovation in the marine fabrics industry has put products on the market that can meet your customers' needs.
For those of us in the boat business, it's important to be responsive to shifting trends. The best place to start is by keeping current with boat fabric trends and the latest innovations that are making yacht fabrics last longer and perform better than ever before.
The following article is for the contemporary marine industry. It discusses some of the most recent technological advances in fabrics and provides background before laying out the latest trends. Read on to get up to speed on how the marine fabric industry is changing and how those changes may affect your boat business.
History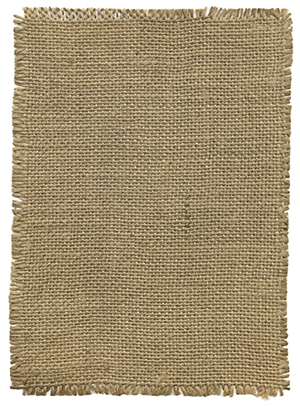 The history of marine fabrics begins with canvas. Canvas is a heavy fabric that is closely woven, giving it a wide variety of uses. The word "canvas" comes from the Arabic word for cannabis, which is Latin for "hemp". Canvas has an extremely simple weave, involving one thread going over and then under the other. This produces a very durable and often water-resistant fabric.
Hemp is the oldest fabric-yielding plant in the world. As far back as 3000 B.C., people in China were making cloth out of hemp. Records show that in 1500 B.C. India cotton was being weaved into fabrics. The Saracens and Moors from North Africa brought cotton to Europe. Cotton canvas was made into ship sails in Barcelona and Venice, and the practice soon spread throughout Europe.
Synthetics Come Onto the Scene
Scientists first created synthetic fibers in the 19th century. Natural or organic fibers come from plants such as cotton or insect silk. Synthetic fibers are fabricated from synthesized polymers or small molecules. Dupont developed Nylon — the first widely available synthetic fiber — in the 1930s as a replacement for silk. Since then, four synthetic fibers have come to dominate the market:
Acrylic and polyester are the most popular synthetic fibers used in the production of yacht fabric. They tend to be significantly more durable than natural fibers. They can also offer stretching, waterproofing, stain-resistance and — when treated properly — UV and UVB resistance. Boat fabrics made with synthetic fibers are constantly being improved, ensuring today's fabrics perform better in harsh marine conditions than their predecessors.
Innovations
The acrylic fabrics used most often in today's marine applications are called "solution dyed acrylics". This refers to their manufacturing process. The fabric does not begin life as a colorless or neutrally colored fabric, such as cotton, only to be dyed whatever color the manufacturer chooses. Instead, the very solution from which the acrylic fibers are made is green, so the fabric is green from its inception.
Coated materials — usually vinyl coated polyester or vinyl and polyester composites — are also very popular. These polyesters are typically woven in their standard color and then the desired color is applied using a coating substance. Because they have a top coat, these composites tend to be less breathable than acrylics but offer superior performance in other areas.
Boat Covers
Breathability is a major factor to consider when choosing the right fabric for boat covers. Coated materials have different ventilation requirements than acrylics, which let the boat breathe more, but need different care to ensure their longevity.
The choice of fabric will depend heavily on the conditions of storage: If your customer is storing the boat indoors in a temperature-controlled environment, a simple, organic fabric will do. If your customer is storing the boat outdoors in the rain or snow — or out on the water — he or she needs to consider water and mildew resistance, UV ray protection, and heat, cold and abrasion resistance.
Boat covers also benefit from the stretch properties of synthetic fibers. The ideal boat cover would fit snugly around the curves and angles of the marine craft. A proper fit and stretch also ensures the boat is properly covered during transportation conditions as well, since a loose cover can catch the wind as the boat is being towed down the highway.
Bimini Tops
Bimini tops are a mainstay of marine fabrication — and the right yacht fabric is key. Bimini tops originated in the Tropic of Cancer on the island of Bimini but are now popular all over the world. They protect boaters from the sun and also provide a partial covering in case of light rain or sea spray.
Bimini tops are often designed to be easily installed and collapsed when not in use. Because of this, the boat fabric used for the cover needs to be soft and supple. It also still needs to provide the kind of shade, water resistance, and UV ray protection customers are looking for. Vinyl coated polyester fabrics — such as Herculite's Riviera Marine Fabric — offer the kind of vinyl softness and performance your customers need.
While the latest trends in marine fabrics favor bolder colors, the classic white shades that match with the craft's gel-coat are a staple of marine style that never goes out of fashion. Darker colors will block more of the sun, providing a deeper shade for your marine craft, while lighter colors will let more light through and provide more illumination for a lighter, more airy atmosphere.
Boat Fabric Trends Inside
While customers will typically understand the practical considerations when choosing fabrics for their boat's exterior, they may want to think outside the box when it comes to the interior. Trends toward a wider variety of fabrics in clothing and home design may push them toward choosing leather, suede, cotton or linen for their boat's interior.
While these fabrics can work in certain applications if they're diligently maintained, customers need to understand that even their boat's interior is still a marine environment plagued by dirt, moisture and mildew. Leathers and suede have very particular cleaning and treating requirements, while cotton and linen have issues with wrinkling and durability. Marine Fabricator Magazine notes that while using these fabrics offer some benefits such as softness or fit with upholstery trends, they also come with maintenance drawbacks. You'll want to educate your customers about the unique challenges these fabrics will face in the marine environment.
Vinyl fabrics, however, are a tried-and-true choice of marine interior fashion. As well as their extensive use in marine exteriors, vinyl is an excellent interior material because of its resistance to mold, mildew, insects, chemicals, moisture and oils. It is also anti-microbial, providing a safe and clean environment for the boat's interior. They offer low absorbency, excellent abrasion resistance and high strength while coming in a wide variety of textures and colors. With such features, it's no wonder that vinyl coated polyester fabrics are a popular customer choice in boat fabric trends.
Which Trends Are Here to Stay?
Marine Fabricator Magazine reported last year on the prominence of bold colors in customer requests and yacht fabric fashions. Customers are increasingly interested in lime, bright orange, purples and magenta, as well as lighter, brighter blues. Experts don't expect these hues to become marine fabric mainstays such as neutrals, blacks, navy blues and reds, but they are increasing in popularity.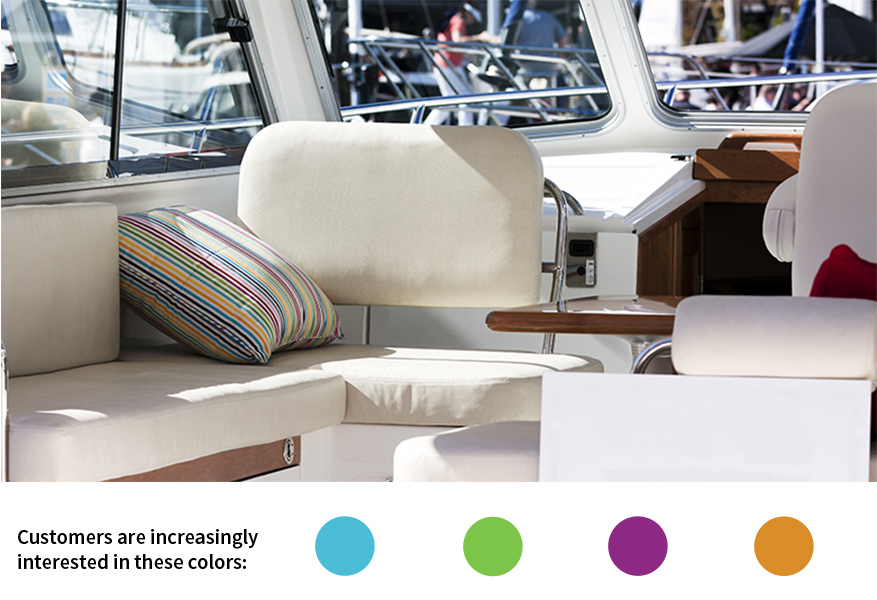 Fashion-forward fabrics — such as jewel tones and batik-style fabric — are also making waves on the yacht fabric scene. While it's unusual to see exotic looks like these used in large on-board applications, small cushions or interior accents could be places where fashion-forward fabrics work well.
Boat style tends to mirror home market trends — but in a muted way. While a customer might want an entire sofa or bed-spread in a bold, exotic print, they're unlikely to be as bold with their marine style. Color and pattern trends will filter down, but they are more common in accents than in large applications such as dodgers or bimini tops.
Technology Driving Boat Fabric Trends
Evolving technology means improvements to marine fabrics every year. Customers are always looking for the latest in look and performance for their boat. High performance finishes are an increasingly prominent part of the yacht fabric space.
Manufacturers are constantly striving to create finishes that increase water resistance, breathability and durability. Today's fabrics perform better than ever before. With new finishes arriving quickly, your customers can look forward to superior performance in the future.
Growing environmental awareness means "green" trends are all the rage. Customers are increasingly aware of safety and green standards. They want fabrics that can meet those standards. Marine fabrics that contain recycled materials are also becoming popular. Customers are looking for fabrics with finishes that are both good for the environment and non-toxic so they're safe for their family.
Digital printing for indoor and outdoor fabrics is increasing our ability to print bold or subtle patterns on boat fabric. Advances in printing technology are improving the fade resistance and durability of digitally printed images. Soon we may be able to print large-scale graphics on whatever sort of fabric we want. We may soon find that the limitations we're facing today are concerns of the past.
Innovation and Diversification
Technological advances are allowing manufacturers to diversify their product offerings. A central aim of manufacturers used to be — and to a large extent still is — producing a fabric that is useful in a wide variety of applications. Changes to production technology and the increasing diversity of customer demands, however, have manufacturers making fabrics specialized for one purpose.
One line includes a fabric for bimini tops that features two different colors — perfect for boaters who want a different color on each side of the fabric. The fabric features a flocked look on the underside. This kind of specialized product is creating a diversity in the range of marine fabrics we have never seen.
Other technical innovations are affecting not just how fabrics are made, but also how marine fabricators and boat sellers are doing business. Virtual and online tools allow customers to choose fabrics online and put together fabric options offsite. Sellers and product reps can show extensive portfolios and presentations on iPads or help customers dive deep into product finish and color options. They also connect sellers with inventory and product availability information at the touch of a button, letting them serve customers better than in the past.
Soon marine fabricators and boat sellers will be able to seamlessly integrate fabric color and image patterns with existing photos of marine craft, showing customers a realistic simulation of what their completed project will look like. This virtual technology will make selling and visualizing marine fabrics easier and more realistic than ever before.
Herculite Leading the Way
Herculite's two core product offerings combine modern fabric technology and style to deliver the performance and look customers have come to expect from the top marine fabricators. Regatta and Riviera Marine Fabrics provide a superior look and feel to the competition while providing industry-leading water proofing and UV resistance.
Both Regatta Yacht Fabric and Riviera Marine Fabric are vinyl and polyester fabrics that provide many years of high performance and durability. Regatta is treated with Rain Kleen, Herculite's exclusive top coating that makes the fabric waterproof, prolongs its life and provides superior color retention. Riviera has a matte surface. It is known for its European-style softness and is slightly lighter than Regatta, although both fabrics are similar in weight.
While each core Herculite fabric provides excellent performance, the production process for each is different. Regatta Yacht Fabric is vinyl laminated on a weft insertion scrim base of high tenacity filament polyester. Riviera Marine Fabric, on the other hand, is a vinyl composite on a scrim base of high strength filament polyester. Regatta meets high standards for flame resistance. Both provide excellent abrasion, mildew, oil and chemical resistance as well as being waterproof and sewable.
| | | | | |
| --- | --- | --- | --- | --- |
| Qualities | Cotton | Solution-Dyed Acrylic | Herculite's Riviera Marine Fabric | Herculite's Regatta Yacht Fabric |
| Water Resistance | Poor | Good | Excellent | Excellent |
| Color Retention | Poor | Excellent | Excellent | Excellent |
| Oil Resistance | Poor | Good | Excellent | Excellent |
| UV Resistance | Moderate | Excellent | Excellent | Excellent |
| Chemical Resistance | Poor | Moderate | Excellent | Excellent |
| Softness | Excellent | Moderate | Excellent | Good |
| Flexibility | Excellent | Excellent | Excellent | Excellent |
| Durability | Moderate | Good | Excellent | Excellent |
| Abrasion Resistance | Moderate | Good | Excellent | Excellent |
| Mildew Resistance | Poor | Excellent | Excellent | Excellent |
| Sewability | Excellent | Excellent | Excellent | Excellent |
| Heat Sealability | Poor | Excellent | Excellent | |
Herculite's Custom Solutions
While both Regatta and Riviera are excellent fabrics for a wide variety of applications, Herculite also custom engineers marine fabrics for projects that require specific features or attributes. Herculite's custom fabrics are flexible to meet the needs of your customer's yacht or boat while helping improve both the performance and affordability of your project. Herculite's extensive experience in the marine fabrics industry means we can give you the information and advice needed to find your perfect fabric solution for your customer.
With marine fabric and style options growing every day, it's easy to get confused about what products are right for your project. An experienced sales representative can help guide you through the process of choosing materials, patterns and colors that will make your customer's yacht or boat durable and attractive. Still, it's helpful to do as much research as you can on your own in order to be informed on the latest options available in boat fabrics.
The white paper "Choosing the Ideal Fabrics by Application" contains a wealth of information and is a good starting point for learning about available fabric options. It gives tips for what fabrics work best in different industries. It includes an in-depth boat fabrics section laying out the pros and cons of different fabric types and how they perform in the rigors of the marine environment.
Advances in technology and hard work by manufacturers have given us more options than we've ever had. With some good advice and a little research, we can provide customers with the perfect marine fabric that will keep their crafts protected and looking good for years to come.

Now that you know a little bit more about the advances in marine fabrics, download our free eBook "What You Don't Know About Custom Boat Tops/Covers Can Be Costly