Awning Fabrics
Awnings 101
New technology today continues to benefit the awning markets. When using vinyl awning fabrics, you can now reduce heat gain by 65 percent.
---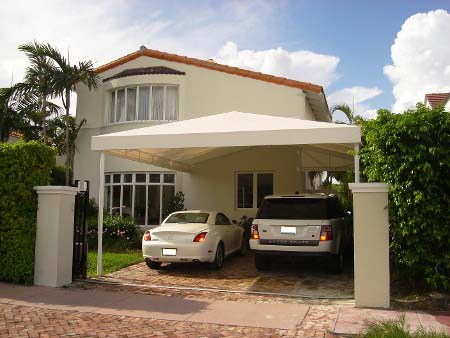 New technology today continues to benefit the awning markets. When using vinyl awning fabrics, you can now reduce heat gain by 65 percent on south facing windows simply by using awnings for decks and window shading. Energy savings is also measurable by 77 percent on west-facing windows. Awnings have a cooling capacity of up to 15 degrees when placed properly, which reduces air conditioning costs as a result by as much as 25 percent. This is due to new vinyl technologies that support its unique ability not to trap heat or moisture.
Breakthrough Technologies Benefit Function and Eye Appeal Herculite® Natura™ awning fabric utilizes breakthrough technologies that have revolutionized high-performance vinyl. This means our fabrics use textile features to duplicate the look and feel of natural woven cloth.
It does this while supporting technological advantages such as:
Fire Resistance
Water Proofing
Dimensional Stability
Heat Seal-able (without needing tape)
Natural fabric beauty augmented by exterior design-supporting colors can enhance the look and feel of any outdoor setting while providing the comfort, protection and savings that are measurable for businesses. This makes them ideal for outdoor settings such as patios and decks for sidewalk cafes and restaurants featuring outdoor seating.
New Commercial Vinyl Awnings for Decks Provide Added Protection
New technologies that are benefiting the vinyl fabric industry are also supporting the delivery of commercial canopy and awning fabric designed to protect furnishings and people from intensified weather. They protect both outdoors and near windows from the sun's harsh UV rays-- this happens while delivering the beauty of the woven natural-design elements.
Patio covering and awnings made with Herculite's® awning fabric provide much more than just reduced energy costs, extra outdoor living space, and superior protection from the sun. Vinyl awning fabrics can now remain tight on the frame and when kept clean and dirt free, they are mold and mildew proof as well.
All our brands now provide new technologies such as specialized film formulations, adhesive systems and our core stabilized process designed to deliver the greatest possible performance.
Flame, Mildew, Stain, Dirt Resistance: Unquestionable Superior Quality
Herculite®, Inc. is the innovator of awning fabrics. Our company has been specializing in high-performance laminated and coated fabrics for over 60 years. We are founders of the synthetic fabrics industry simply because Herculite® pioneered the usage of laminated fabrics.

Today this means that the Herculite® fabric company provides vast arrays of:
Brands
Products
Marketing
Design
Manufacting
Consultation
Technical Expertise
As always, we innovate in order to create improved quality for the benefit of our customers. Herculite® Natura awning fabrics are a polyester-reinforced PVC fabric. Our specialized processes and technologies are designed to deliver many years of exceptional service.
Herculite's Rain Kleen® surface treatments are designed to augment and enhance longevity as well as ease of maintenance--especially for our awnings for decks.
Enjoy Special Pricing and Our Superior Quality Brands
Herculite is proud to be able to offer selections of advanced-quality awnings for decks as well as marine fabrics at very special rates.
Our Coastline Plus® brands are fabrics presented in four attractive categories- Solids, Linen and Stripes.
For any big commercial awning projects requiring extended life expectancy--our Vanguard® brand awning fabric delivers 15 solid colors and also provides an 8-year manufacturers warranty.

Consider these advantages and choose Herculite's superior technology, convenience, natural attractiveness and dependable affordability today.