Tent Fabric
Blackout Tent Fabric Breakthrough Finally Resolves Decades-Old Issue
Since the advent of blackout tent fabric, the decades-old issue of blocking sunlight for outdoor shade structures has been solved. Learn more about blackout material construction and uses.
---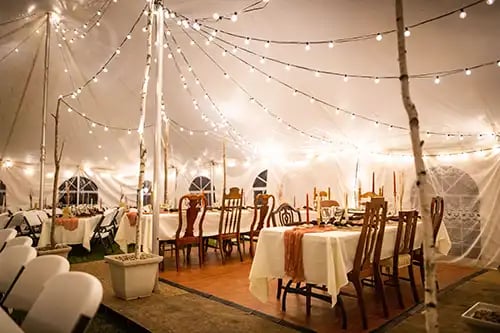 Since the days of cotton and linen, the textile industry has advanced significantly. Today, specialty fabrics are comprised of blended materials like vinyl, polyester, and acrylic.
Prior to the advent of specialty textiles, we were limited to using only simple cottons to construct tents and provide shade. But, new fabrics like blackout material allow for complete darkness, as the opaque textile entirely blocks sunlight. Cottons and other simpler fabrics tend to let light through, even if it is only a miniscule amount. This can be a nuisance if you're trying to throw an intimate party, wedding reception, or other event. That's where advancements in the textiles industry truly save the day.
With the invention of blackout fabric in the early 1900s, and the technological advancements that came with it - top coatings, layerings, uses of different textiles - the issue of blocking light was finally solved. But, what exactly is blackout fabric? Let's break it down. This specialty textile is an opaque material which is layered between at least two exterior fabrics or foams. The layers of exterior covering act like walls, shielding one from the other with the opaque textile in between. This ensures that light does not penetrate. Thus, the blackout effect is created.
The blackout material used in Herculite's tent and fabric structure products is an excellent example of an advanced textile. Herculite's blackout fabrics are ultra violet (UV) degradation resistant and flexible in very cold, low temperatures. The fabrics are also flame retardant and registered with regulatory bodies like the California Fire Marshal, NFPA, CPAI, Canadian NFPA, and M2 to name only a few. All Herculite textiles are also easy to clean, available in opaque or translucent, and durable.
So why would you need blackout material? Consider events that take place outdoors; weddings, parties, ceremonies and corporate events. Tents that properly block out daylight and the harmful UV rays of the sun provide an ambiance that guests will appreciate. Tents with blackout material also allow for controlled lighting. Users can string lights and lanterns, and get creative while illuminating the interior, because the blackout material is doing it's job; providing a canvas.
It's important to remember that not all blackout material is made equally. Usually, these specialty fabrics are created through 2-pass or 3-pass processes. An extra layer of coating is applied to block out light on 3-pass blackout textiles. The extra layer on the 3-pass can also be used for decorative purposes. The 2-pass process is typically used when creating curtains. Construction of said material also varies. Herculite's blackout fabrics are made from a proprietary polyester vinyl composite formulation, which is ideal for tents. Blackout tent fabric provides partial soundproofing from the outside, as the density of the material serves to cancel noise. The textile also insulates well and features temperature flexibility, plus mildew inhibitor treatments for maximum mildew and wick resistance.
Herculite's Showtime® tent fabric brands also have a blackout option. The Showtime tent fabric is best for theme parks and events. Herculite's proprietary process provides a double blackout system that increases the resistance to abrasion and concentrated beams of light called pin holes. This process increases the life of the tent for higher grade rentals.
Blackout material truly helped improve the specialty textile market and revolutionize the tent and curtain industries. Before blackout fabric was on the market, people had to use several layers of material to completely block light from their windows. Today, all you need to do is buy curtains or tents made from blackout material to keep the sun at bay.
Remember, choosing the right blackout material for your tent or shade structure is important. Talk to your supplier or manufacturer about the type of textile being used to construct your tent product; it matters. The longer your blackout material lasts, the more frequently you can rent that tent with confidence and provide guests with a shade structure they can enjoy.
Also, talk to your manufacturer or supplier about custom engineered blackout material. You don't have to use whatever's on the shelf. Your fabric supplier can help engineer something specifically for your project.
Want to learn more about selecting the right fabric material and maximizing your tent ROI? Check out our "Five Factors to Consider When Buying Tent Fabric Material" Guide!