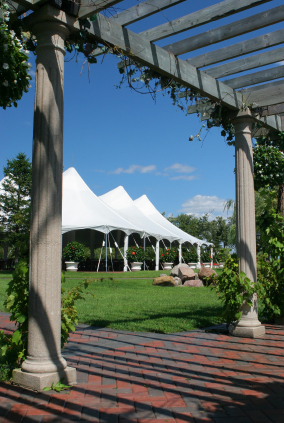 When it comes to covering your guests during an outdoor party, wedding, corporate, or family gathering, it's important to know that you're using the right fabric for your tent.
Remember, there are a variety of fabrics out there that you can choose from including, but not limited to, the following:
Vinyl
Acrylic
Canvas
Polyvinyl Composites
Polyester
Rayon
Nylon
Each fabric has different qualities. But remember, these fabrics can be strengthened and fortified to be UV ray resistant, mold and mildew resistant, fire retardant, and even rip and tear resistant. You can even use a blackout material to really give your guests an enclosed and intimate experience. Blackout materials are great for tents used at weddings.
When you talk to a business about renting a party tent you should know the kind of material you need. Some environmental factors to consider:
Do you live in a humid area? You might want to consider a mold and mildew resistant and waterproof tent fabric.
Do you live in a sunny/hot area? UV Ray resistant and fire retardant tent fabric might be in order.
Do you live in a colder climate? Perhaps a thicker material like canvas will work for you.
Whatever the case or weather, remember to ask your tent rental company what kind of fabric will best suit your event.
Also, remember to ask your tent rental company about the shape and size of the tent. You don't want to have 150 guests in a small 10x10 tent. So remember to figure out the dimensions of the tent you need based on the number of guests and tables and chairs you will have during your event.
Don't forget to also do your due diligence and see if you can even put up a party tent in your backyard or outdoor area. Remember, not every outdoor space can accommodate a party tent.
Finally, make a checklist of the things you need to know before you rent that party tent. After all, you're protecting your guests. It's always good to know what you're covering them with.
Here's a quick checklist you can use:
Based on your climate what type of material do you need?
Is your outdoor area suitable for a party tent?
How big do you need your tent to be?
How long will you need to rent the tent?
Will you need blackout material?
How much do you want to spend?
Once you have a good idea of the things listed above, give your tent rental company a ring and see how they can help you.
On the hunt for a quality and aesthetically pleasing tent fabric material? Our free Five Factors to Consider When Buying a Tent Fabric Material guide can help. For more information about Herculite's specialty fabrics and party tent fabrics visit us at http://www.herculite.com. Or feel free to call us if you would like more information about our products and services at 800-772-0036.