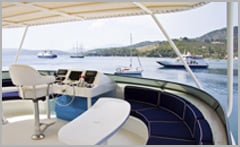 If you've recently purchased a pre-owned yacht or boat and are planning to fix it up or completely refurbish it, you may be thinking about getting a new bimini top. Bimini tops are open-front canvas or fabric coverings supported by a metal, collapsible frame which serves as a shade structure on a boat. These can be a great addition to any watercraft, whether you're planning an outing with your family and friends or just want to spend a lazy afternoon fishing.
Fortunately, buying a custom bimini is easy if you know what to look for and prioritize before you purchase.
Use the list below to find the perfect bimini for your boat:
1) Type of Bimini Top – Bimini tops come in a variety of different types. Most are suited specifically for yachts, sailboats, pontoons, or ski towers, and so on. Be sure to bring the make, model, and year of your boat with you when you go shopping, so that you can make an educated selection.
2) High-Quality, Marine-Grade Fabrics – The canvas, or fabricated part of a bimini, is constantly exposed to the sun and heat, as well as other weather-related conditions, which means it's typically the first part to deteriorate. To prevent this from happening, purchase a bimini that has a high-quality, marine-grade fabric. You'll need a breathable material that will withstand the test of time, keep a beautiful appearance, won't tear, shrink, or stretch; and will be UV, water, mold, and mildew resistant. Fabrics that meet these requirements include Herculite Riviera Marine Fabric™ (which is perfectly suited for boating applications, such as bimini tops, cockpit covers, boat covers, and enclosure curtains.) Riviera fabric provides superior waterproofing and sun protection that other fabrics can't match, and is colorfast, so it won't wash out or fade easily over time. Weblon Regatta® Marine Fabric with exclusive Rain Kleen® finish is another all-weather boat fabric built to withstand the rigors of marine environments. These can all be custom made by Herculite.
For tips on how to select a high-quality fabric, see the Herculite articles What Marine Fabric Works Best for Bimini Tops? or Fabric Choices for Your Bimini Top.
3) Fabric Color and Style – Selecting the right color and style of fabric will not only enhance your boat's appearance, but it can also increase its value. Be sure to select a light shade color (to prevent your new fabric from fading) that complements the existing hue of your yacht or boat.
4) Fit - Bimini tops come in different shapes and sizes, and have 2, 3, or 4 bows. To get the right fit for your boat, start by measuring the length, width, and height of the area on your boat that you need the Bimini to cover. Keep in mind that the most important measurement will be the width between the mounting points (NOT the width of your boat.)
5) Coverage Area – Before you have a custom bimini made, consider how and in what ways you'll be using your boat. For instance, do you anticipate that you and your family will be sitting in your boat on the water all day? If so, you may want to buy a long bimini to ensure everyone will have enough shade. Or, do you plan to go fishing by yourself and a friend? In that case, you may want to go with a smaller and taller bimini that will allow you to stand and walk around your boat all day while you fish.
6) Mounting Frame – Most bimini tops are supported by a mounting frame that's made from either stainless steel or aluminum. In general, a stainless steel frame tends to work best for saltwater boating environments, as it's able to withstand higher winds and corrosion, while aluminum is usually the best frame choice for freshwater boating environments.
7) Speed Rating – To prevent your bimini from tearing or breaking, as well as potentially damaging your boat, look for a bimini top that will support a high speed of travel when it's open (i.e., up to 35 miles per hour.)
8) Price – Yes, buying custom bimini tops can be a lot more expensive than buying a standard, ready-made one. But ordering a custom top also means that the final product will fit perfectly on your boat, it will be made of better and higher quality materials, and it will last longer.
9) Warranty – No matter how high the fabric quality is, even the toughest fibers will eventually break down over time. But, if you buy a fabric that comes with a long-lasting warranty (at least a five year minimum) that covers most incidences, it can significantly help protect your investment.
10) Storage Boot – In addition to your custom bimini top purchase, you should also plan to buy a storage boot. That way, you'll be able to safely and neatly store your Bimini top in a compact position and keep it clean and dry whenever it's not in use.
When it comes to marine fabrics, laminate provides several clear benefits. Learn more by checking out our latest eBook, "Why Laminated Marine Vinyl Fabrics Offer Advantages Over Coated Marine Vinyl Fabrics".