Tent Fabric
Choose the Right Wedding Tent
Herculite's Structure and Tent Fabrics are made with its Core Stabilized Process, ensuring the highest level of dimensional stability
---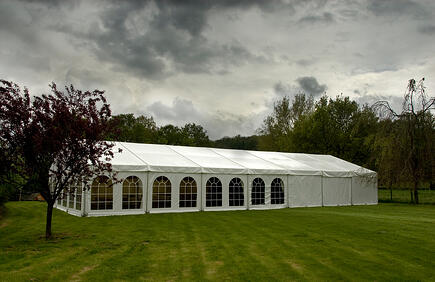 It's your big day! The moment when you tell the person you love you're spending the rest of your life with him or her. But before that wonderful occasion, there's a boat load of planning involved including but not limited to: catering; flowers; dresses; guest accommodations; invitations; and of course the venue.
Choosing the right venue is essential when it comes to putting together your wedding. If you decide on an outdoor wedding then it's also about choosing the right wedding tents or structure for your event. Not every fabric structure is made the same and it's important to research your options before purchasing a tent for your wedding; after all, this is your moment to shine.
Tents range in size, shape, color, and material. Some can be made from canvas, others have blackout material, while some are made from a vinyl and polyester composite. The time of day you have your event is also an important factor when it comes to choosing your wedding tent. If it's at night then you probably don't have to worry too much about blackout material. However, if you're having your wedding during daylight hours, then blackout material is something to consider as well as UV ray protection.
Also, if you're going to have guests seated, dining, and dancing under the structure as well, you will want material that is strong and durable. You'll want something that won't tear easily and has the appropriate weight and tensile strength to withstand the elements, especially wind and moisture. Also consider whether or not you're going to hang lights, have decorations, and need power outlets to run through your tent; you'll need a fabric that won't tear easily.
Once you've got your details squared away - you know what time of day you're going to have your event, if your guests will be seated, dining, and dancing or mingling under the tent – then you can start shopping for the right tent material or asking for the right structure from your venue's event coordinator.
There are plenty of suppliers who can help you with your wedding tent needs and there are a variety of products out on the market today. Herculite Inc. has a family of Structure and Tent Fabrics that offer a complete selection of high performance advanced technical textiles, custom engineered specifically for the diverse needs of this market.
Herculite's Structure and Tent Fabrics are made with its Core Stabilized Process, ensuring the highest level of dimensional stability and resistance to stretch for maximum performance of tent fabric. (Great for wedding events!)
Herculite offers a PVC formulation for tent fabrics. This formulation has excellent resistance to ultra violet degradation and low cold temperature flexibility; it also has mildew inhibitor treatments for maximum mildew and wick resistance. This means, your wedding guests will be protected from the harsh rays of the sun!
Now that you know a little more about your options for a wedding tent, you can make an informed decision on what's best for your special day. But, if you're still not sure how to choose the right fabric Herculite offers a great white paper on the topic: Choosing the Ideal Fabrics by Application. Visit www.herculite.com for more information and let us know how we can help you.