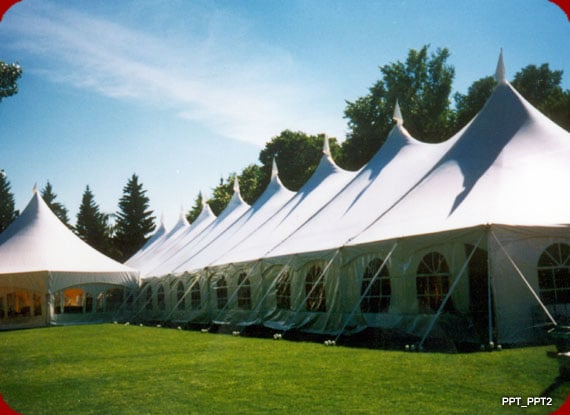 When it comes to selecting a fabric supplier for your tent rental company, there are several factors to take into consideration. Providing your customer with a high-quality product is extremely important, so finding a top-notch fabric is critical. Durability is paramount; lower-grade materials may have lower initial costs, but as they degrade and necessitate replacement, overhead begins to pile up. While a material supplier with excellent products may seem appealing, their inflexible or pushy customer service might be a major detriment to a successful professional relationship. As a small business, profit margins can be slim and you want to be able to trust that the people providing your tent fabric care about your bottom-line.
Herculite has been in operation for over six decades, solidifying its place as one of the pioneers in the synthetic fabrics industry. The company has built a reputation based upon innovative, high-quality fabric and an adaptable, customer-first focus to problem solving. They know what it takes to build a lasting and trusting relationship with customers -- whether they are an international conglomerate or a small mom-and-pop tent rental organization.
Personable and Helpful Customer Service
Herculite takes great pride in providing its customers with industry-leading customer service. Many businesses take a heavy-handed, one-size-fits-all approach to working with their clients. Unlike those organizations, Herculite works in tandem with you and your team to develop practical solutions for your specific fabric needs. They value each and every client, no matter their size, and understand the extreme differences in priorities between these companies.
Finding the correct solution for your tent fabric needs is priority number one for Herculite. Throughout its 60 year existence, they have catered to a wide range of fabric-related industries. Its customer service team is unafraid to utilize this expansive bank of knowledge, using outside-the-box ideas to come up with progressive solutions. Herculite offers a customer service experience unlike other tent material suppliers.
Industry-Leading Fabric Quality
Herculite products stand above the competition in terms of innovation and overall quality. The company has always stood as a cutting-edge member of the synthetic fabric industry. This superlative extends into the tent material division. Simply put, there are no fabric suppliers on the market today that can match the stellar legacy of Herculite. For companies that require a diverse range of event tent fabrics, Herculite can serve as your one stop shop. They offer a great line of materials that meet the needs of every rental organization.
The Architent line of tent fabric is engineered for maximum durability and strength. This high-quality tent fabric is available in weights that range from 14 to 20 ounces and allows you the choice of acrylic or PVDF top coatings. Also available is the Architent WideSide, which is an industry leading sidewall fabric that can be produced in 90" and 98" sizes. For theme park tents and other event tents, look no further than the Showtime line, which offer a high-gloss, ultra-smooth surface and a great selection of color choices.
Proven Record of Reliability
The Architent line is one of the most durable in the industry. With a proprietary PVC formulation, this material is designed to last. It offers strong resistance to degradation from UV exposure, is treated with a mildew inhibitor to wick away moisture, and is designed to withstand cold weather exposure. Not only is Herculite's Architent fabric durable and reliable, but with the Fluoroshield topcoat, is it extremely easy to clean.
Showtime theme park and event tent fabric is put through a proprietary process that creates a double blackout system. This system makes the material more resistant to damage from abrasions which can lead to pinholes, or concentrated rays of light.
Material Are Made In America
Herculite is one of the few fabric suppliers in the country that can claim to make their products right here in the United States. Herculite fabrics comply with the Federal Trade Commission's Made In The USA standards.
Herculite has been involved in providing fabric for the tent industry for 30 years. The Herculite legacy has been earned over years of experience, so you can rest assured your tent fabric needs are in very good hands. It is their expressed mission to provide customers with the most innovative synthetic fabric on the market and find products that meet you and your clients' needs. Add in a proven track record of reliability and powerful customer service that seeks to improve your bottom line and it is easy to see they are one of the best tent material suppliers on the market.
Want to learn a bit more about tent fabrics? Download our free guide, "Five Factors to Consider When Buying Tent Fabric Material"