Tent Fabric
Fabric for Tents Makes a Difference
Choosing the right fabric for tents ensures good looks and reliable performance
---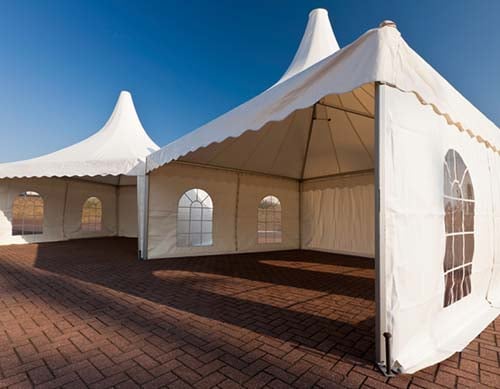 No matter how you're using tents, quality and durability are top priorities. Whether you're an event planner, a rental company, a commercial tent manufacturer or even an end-user, your tent has to meet demanding expectations for good looks and reliable performance. Choosing the right fabric for tents ensures you can meet those goals.
A fabric for every purpose
Fabric testing for tents has changed dramatically over the six decades Herculite Products Inc. has been in business. The days of canvas are long gone. Today, high-tech synthetic fabrics offer specialized, built-in characteristics to match specific functional and appearance requirements. You'll find advanced laminated or coated fabrics that can:
Assure long term UV protection.
Meet certification standards for flame resistance.
Engineered for large structures.
Provide the perfect background for graphics, whether pre pressure-sensitive vinyl or directly-applied digital graphics.
Resist Mildew when properly stored.
Many fabrics are manufactured using a core-stabilizing process that gives the fabric much greater dimensional stability – the factor that improves resistance to stretching and sagging which can occur over time under stress from wind, rain or snow.
Herculite Architent® fabric is engineered to provide maximum strength and durability, so it's perfect for fabric architecture and tension structures. It's certified flame resistant and can be used with optional PVDF and Acrylic topcoats. Herculite Showtime® vinyl fabric is ideal for theme park and event tents. It's also certified flame resistant, and you can choose from the industry's widest range of in-stock tent top vinyl colors.
Generic is out, Customization is in
With today's fabric for tents, you can achieve your own look. Choose from a wide palette of colors, or add custom graphics. Tailor your tents with accessories such as sidewalls to give each venue a truly individual look that's irresistibly appealing. Sidewall options are expanding every year with new windows and themed sidewall using printed graphics. The window clear tops are very fashionable and now high translucent tent tops are popular with various manufacturers. These interchangeable elements allow you to customize your tents for each event. Herculite Architent® WideSide is the industry's premier seamless sidewall fabric.
You might even consider custom-engineered fabric for tents, created in consultation with our experienced product development staff to match your specific requirements.
Made in the USA is more than a matter of pride when it comes to fabric for tents.
"Budget" fabrics are a classic example of you-get-what-you-pay-for. Poor quality fabric invites early performance failure, costing more in the long run with too-soon replacement and the frustration that comes from having to repeatedly make repairs. Sometimes even small repairs can detract from a tent's appearance, and that's a reflection on your business.
Herculite's tent fabrics are rigorously tested to ensure it meets the most stringent industry standards for performance and safety. Knowing your fabric comes from a trusted source will give you confidence and peace of mind you're making the smartest investment. Herculite stands behind their tent fabrics and will ensure you get the return you need on your investment.
Still not sure what fabric for tents will be your best choice? With decades of experience to back them up, our Herculite® experts are happy to advise you, offering suggestions and insight about factors you might not have considered.
Because tents are crucial to your business, your profitability is on the line as well as your reputation. Tent fabric makes a difference when it comes to longevity and low maintenance that give you the best return on your investment and the lowest total cost of ownership. Choosing the right fabric ensures the tents you sell or rent always reflects well on you.