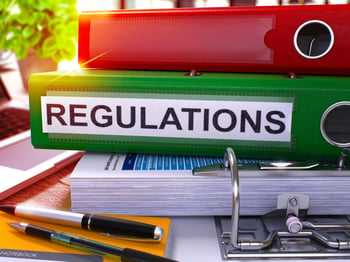 With roots reaching back to ancient Egypt, safety data sheets (SDS), formerly known as Safety Data Sheets (or MSDS) have been a required part of commercial record keeping and safety standards at Herculite Products and all US Manfacturers since 1986.
Just think, you and Dr. Imhotep, perhaps the first physician in recorded history, have something in common. He was passing information along about the prescriptions he included in the royal family's tombs—sources, names, preparation, storage and application procedures, as well as warnings against improper use and application—and you're doing essentially the same thing for your king, or, boss…and co-workers…and just about any government agency inspector who happens by your facility.
Standards and regulators
In the U.S., the Occupational Safety and Health Administration (OSHA) is charged with oversight of the Hazard Communication Standard 29 CFR 1910.1200 (HazCom Standard). It shares enforcement of SDS standards with the U.S. Environmental Protection Agency (EPA), and some state and local agencies as well. U.S.-based manufacturers who distribute internationally face similar, additional regulations from foreign regulators, notably in the European Union, and elsewhere around the globe.
The statute was enacted to help employers and their staff, and emergency responders (such as firefighters) understand which hazardous chemicals are present on site (whether in chemical form or as a component of an item), their reactive properties, and any safety precautions that must be used when handling these materials.
The list of substances which require an SDS accompany their commercial delivery depends on their packaging and frequency of use, and ranges from food additives (such as the potentially explosive flour dust) to cosmetics, from the seemingly benign office and school supplies to skull-and-crossbones-worthy bio-hazardous materials. An employee occasionally using a common cleaning solvent, for example might not trigger SDS compliance, but an employee who came in frequent contact with the cleaner might.
OSHA does not require SDS be made available to the consumer, but suggests that they be available should someone request one. The sheets used in those instances should be labeled something to the effect of "Intended for occupational, not consumer use."
Manufacturers are expected to keep distributors of their goods, whether undiluted or unadulterated, or as a component element in an "article," i.e., a manufactured product, current with SDS. And those distributors, in turn, are to keep their resellers current up until the final consumer.
The Details
The types of information your SDS will contain include physical data (such as boiling point, flash point, and melting point), toxicity, health effects, reactivity, storage, disposal, and first aid, protocols, spill-handling procedures, and the protective gear required, if any, to handle the materials safely.
The HazCom Standard does not specify any minimum quantities being held or handled to trigger the necessity of producing and providing SDS to distributors. To be safe, all but the most benign chemicals might be considered exempt from these regulations regardless of the quantity; some chemicals are deadly in microscopic quantities.
OSHA offers general guidance for the formatting of SDS including a sample suggested document. The sheet should contain the following:
Identification
Hazard(s) identification
Composition/information on ingredients
First-aid measures
Fire-fighting measures
Accidental release measures
Handling and storage
Exposure controls/personal protection
Physical and chemical properties
Stability and reactivity
Toxicological information
Ecological information
Disposal considerations
Transport information
Regulatory information
Other (pertinent) information
What's in a title?
Of course, your title at work, no matter how fancy or impressive, probably doesn't come close to Imhotep's: Chancellor of the King of Egypt, Doctor, First in line after the King of Upper Egypt, Administrator of the Great Palace, Hereditary nobleman, High Priest of Heliopolis, Builder, Chief Carpenter, Chief Sculptor, and Maker of Vases in Chief.
Nonetheless, you share in the proud tradition of professionals documenting the safety protocols necessary to keep your work environment—whether a royal tomb or a factory floor—safe for all.
To learn more about Herculite's quality assurance, download our free eBook, "Why Herculite is Uniquely Qualified to Deliver Quality Medical Fabrics"