Designing for hospital rooms is about more than providing a comfortable patient area with medical equipment—it's about creating a better healthcare and healing experience for patients and their families during a hospital stay, as well as developing a better workspace for caregivers.
Whether you're designing a new hospital room or renovating an existing one, adding the right hospital curtains can dramatically impact the overall look and feel of a room. Below are some ideas on how to successfully incorporate them into your design plans.
Assess the Design Needs
Prior to creating the design plan, it's important to determine and understand:
The size and type of room in which the curtains will be used (is it a single room, or was it intended for double occupancy?)

The size of the windows and/or square footage of the areas where the curtains will be used

The functional needs for the curtains (Will they primarily be used to decorative or divide the room? For privacy purposes? To darken a room?)

How homelike the room design will need to be (Does the room need to include

evidence-based design elements

or standard design elements?)

The type, quality, and style of curtain fabric will be needed (to adhere to stringent medical requirements and to create an aesthetically pleasing space)
Types of Curtains Frequently Used in Patient Rooms
A few examples of the most common curtain types used in patient rooms include:
Window Treatments – Curtains, valances, and other materials used to cover the windows or a window frame in a patient's room.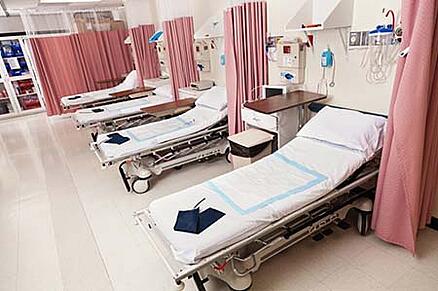 Hospital Cubicle Curtains (Also Known as Privacy Curtains) – Medical fabrics, suspended from a ceiling track or other support structure to create a separate, private room for patients. These types of curtains usually have a row of mesh at the top (if required by local safety codes to let ceiling-mounted fire sprinklers do their job in the event of a fire), as well as space between the bottom of the curtain and the floor to prevent the fabric from being soiled whenever the floors are cleaned and mopped.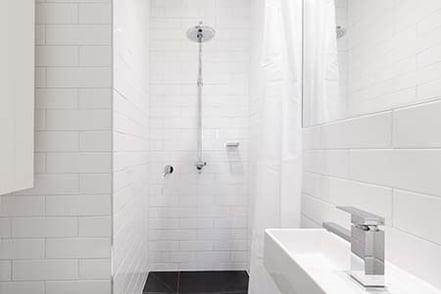 Hospital Shower Curtains – Curtains used in bathing areas to help keep water from leaking onto the floor of the patient room, as well as to prevent and control the spread of bacteria and fungus.
Selecting the Right Fabric for Your Hospital Curtains
Because of the healthcare industry's highly specialized needs and stringent regulatory requirements, hospitals demand a higher quality and different type of fabric for their curtains than traditional facilities. For example, they need fabrics that are not only strong and durable, but also antimicrobial, hypoallergenic, antistatic (to prevent static electricity from potentially interfering with sensitive medical equipment), flame resistant; stain, odor, and fluid resistant, and so on. Plus, the color of the curtains can also play an important role in patient healing. Therefore, it's important to work with a fabric supplier that offers high-quality medical fabrics which include all of these features and more.
Why Herculite is the Best Choice for Hospital Curtain Fabrics
If you are in the market for hospital curtains, you need a provider with years of experience, safe, compliant and stylish offerings, custom engineering options and high quality standards. Herculite can help.
Experience
Herculite has been a trusted fabric supplier for hospitals and healthcare professionals for more than 60 years. Herculite employs an in-house team of healthcare, engineering, quality control, and testing experts to ensure your organization will receive the best products available.
Safe, Compliant, AND Stylish Hospital Curtains
Slow Release Antimicrobial
Herculite's Sure-Chek® brand incorporates a slow release antimicrobial additive which inhibits the growth of bacterial microbes on the fabric and minimizes the spread of hospital-acquired infections. The additive also protects and extends the life of the medical fabric.
A Wide Selection and On-hand Supply of Medical Fabrics
Herculite offers a wide variety of aesthetically pleasing and stylish medical fabrics, and keeps a more robust supply of fabrics on hand than the majority of its competitors.
Direct Access to Herculite's Team and Manufacturing Process
Herculite will work with your organization to identify your medical fabric wants and needs and will provide additional recommendations, including any certification and testing suggestions. Once agreed upon, Herculite will then manufacture its products to your organization's exact specifications, and ensure that the products meet all regulatory standards agreed to in the product design.

Your organization will be directly connected to Herculite's manufacturing process, providing you with a smoother path to compliance and certification. You can also take comfort in knowing that you'll only receive high quality products from Herculite, as the company relies on time tested and proven product formulations and processes to manufacture all of it's Sure-Chek products.
High Quality Assurance Standards
To deliver the best healthcare fabrics, Herculite ensures all materials included in products from its suppliers are qualified and tested upon receipt. The materials are then retested, inspected, and benchmarked throughout the entire manufacturing process to ensure that they will meet your organization's specific product needs. The company also maintains its own supplier certification program. As a result, Herculite has achieved over 99% quality compliance for its products.

For more information about Herculite's product offerings, stellar record of experience and customer service, please download the eBook "Why Herculite is Uniquely Qualified to Deliver Quality Medical Fabrics."