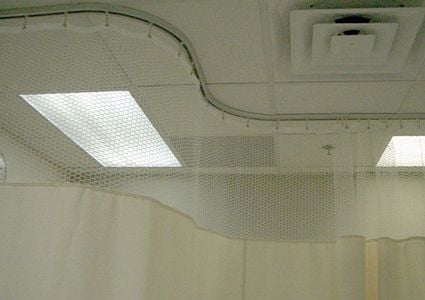 Hospitals, clinics, and other healthcare-related facilities have a unique environment—one that requires them to set up and maintain a sterile setting to continually provide their patients with the most hygienic treatment possible.
To accomplish this, as well as optimize the layout of patient rooms and save money, many hospitals use cubical curtains (i.e., a dividing cloth suspended from a ceiling track or other support structure) made of a special medical fabric to create a separate, private room for their patients. By partitioning patient rooms this way, a hospital's staff is also able to more quickly and easily administer medical care.
Tips for Selecting the Right Hospital Curtains
Because of these specialized needs, hospitals must use a higher quality and different type of fabric in their curtains than traditional facilities. For example, a hospital's curtains must be able to withstand:
Heavy use by multiple people

Stains, undesirable odors, and fluids

Disinfectants

Microbial attacks
A hospital's curtains may also need to include:
A row of mesh at the top (if required by local fire codes) to let ceiling-mounted fire sprinklers do their job in the event of a fire. This row of mesh also allows for more light and air ventilation in a patient's room.

Sufficient space between the bottom of the curtain and the floor (to keep the fabric from being soiled during ongoing mop and floor cleanings by the hospital's staff).
As a result, there are a lot of important factors to consider when selecting a hospital cubicle curtain or shower curtain. Thus, buyers often ask: How do I select the right fabric?
Obviously, every hospital differs in its requirements. But below are some good general guidelines to use when shopping for new hospital cubicle curtains or hospital shower curtains:
Hospital Cubicle Curtains
The fabric should:
Be flame, stain, fluid, and odor resistant

Contain an antimicrobial additive that will be slowly released to the surface over time, as antimicrobial curtains not only prevent and control pathogens and germs, but can also help minimize

hospital-acquired infections

)

Be anti-static (to prevent static electricity from interfering with sensitive medical equipment)

Be hypoallergenic (to protect patients from having allergic reactions)

Be strong, durable, and tear resistant

Be free of heavy metals, such as lead, chromium, molybdenum, cadmium, etc
The right fabric should also:
Be easy for a hospital's staff to clean in place

Blend in with the hospital's decorating style
Hospital Shower Curtains
Hospital showers are used by a lot of people. That means the right shower curtain must serve two important purposes: 1) Keep water from leaking onto the floor, and 2) Hinder the growth of bacteria and fungus. Thus, look for a shower curtain that is:
Water repellant

Anti-bacterial

Mildew, stain, and odor resistant

Flame resistant

Self deodorizing

Durable and easy to clean
By using the above criteria as a general guide, you'll not only be able to select a high-quality fabric for your hopsital cubicle and shower curtains, but also one that will last a long time and meet all the necessary regulatory requirements.
Now that you know a little more about healthcare fabrics, download our free eBook, "Why Herculite is Uniquely Qualified to Deliver Quality Medical Fabrics" to learn how Herculite stands out from the competition.