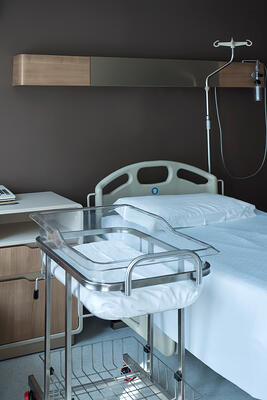 When we think of beds, we associate them with comfort and a good night's rest. But when we're sick or ill and we have to stay at a hospital, we think of beds in a whole new light. What are they made of? How can a hospital bed help a patient?
Hospital bed mattresses can be made using gel, foam, or even air as interior support materials. They are constructed with the patient's well-being in mind. Gel, foam and air mattresses are designed to reduce the incidents of bed sores on patients and promote healing. With proper care and a good mattress, the incidence of bed sores can be reduced while staying at a hospital.
But what about the fabrics used in bed sheets or in the mattress? What kind of fabrics should be used in a hospital bed? Your typical flannel, fleece, or cotton fabrics won't cut it in a hospital setting. Using top notch, quality medical fabrics is one way to help patients avoid germs and infections. Maintaining those medical fabrics is critical in helping to reduce the infection rate.
One basic step in maintaining medical fabrics is by using the right soaps, and detergents to clean them. But the first step in maintaining medical fabrics is choosing the right product that will stand the use and abuse in a hospital setting, as well as the test of time.
Medical fabrics go through a great deal of wear and tear so using a high performance technical fabric that incorporates antimicrobial fabric protection, stain, fluid, and moisture resistant, along with flame retardant, and thermally conductive is key especially when it comes to hospital bed fabrics. Herculite Inc. offers its Sure-Chek® line of medical fabric products which was specifically for the hospital setting and meets all of the above recommendations.
In addition, Sure-Chek® fabrics feature hypoallergenic and odor resistant qualities. Sure-Chek® fabric options include fabrics engineered with elasticity and pressure management design. This means the fabric in the mattress conforms to the patient, allowing for comfort and support.
Best of all, Sure-Chek® fabrics feature a technologically advanced controlled release system which enables the slow release of a specially formulated antimicrobial system to the fabric surface. The release system lasts for the life of the fabric and will not be removed with cleaning. Today, the Sure-Chek® brand of medical fabrics are industry standard.
Using medical fabrics with antimicrobial fabric protection also saves you in the long run. Medical fabrics with antimicrobial fabric protection tend to use less cleaning chemicals and help prevent the spread of germs and bacteria.
And remember, one of the best ways to maintain hospital bed fabric/medical fabrics is by having a system. Each bed sheet/medical fabric should be properly collected, cleaned, and stored. Management should be involved in the care of medical fabrics and how they are maintained – from purchase to bed, it's important every step is tracked and logged to help reduce contamination and the spread of germs and bacteria.
Some medical fabrics call for the use of neutral soaps; others recommend the use of phenolic disinfectants, while others can be wiped clean and do not require laundering at all. To find out how to care for your medical fabric, check with your manufacturer.
For more information about the Sure-Chek® line of medical fabrics, visit www.herculite.com.