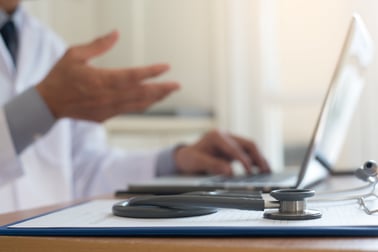 Conferences, expos, and conventions are huge in the medical industry. For medical device manufacturers and engineers, conferences are a valuable source of information from industry insiders.
They also present a marvelous opportunity to market your medical devices to a wide audience. A conference is a great opportunity to expand your network, build connections with leads, and engage with existing clients.

However, uncovering which conferences are can't-miss isn't easy. That's why we pulled together this medical device manufacturing conference list for 2019, complete with all the information you need to plug into your calendar.

When: October 21-23, 2019
Where: Georgia World Congress Center, Atlanta, GA
Contact: medtradespring@experient-inc.com
Details: The largest trade show for home medical equipment in the US since 1979, MedTrade connects manufacturers with the HME industry. MedTrade is noteworthy for its large expo floor, which displays the newest tech from equipment manufacturers, HME startups, and personal health product designers. Attendees can get day passes for as little as $99.

When: April 6-10 2019
Where: Nashville, TN
Contact: socialmedia@aorn.org
Details: A meeting of leaders in the surgical devices industry, the AORN Global Surgical Conference & Expo features more than 70 live education sessions, vendor demonstrations, networking opportunities, and more.
For device manufacturers and engineers, this expo is a marvelous arena for debuting new tech and demoing for a broad audience. Students and faculty can access parts of the conference for free. General admission day passes start at $275 for members.

When: October 23-24, 2019
Where: Minneapolis, MN
Contact: advmfgregistration@ubm.com
Details: Medical Design & Manufacturing Minneapolis brings experts in manufacturing equipment, automation, materials, and more to the great state of Minnesota for two days in the fall.
This conference is the largest educational meetup in the midwest — itself the second largest region for medical device innovation — where medtech pros meet to network and learn. It's an immersive experience you won't want to miss. Day passes start at $299 for early bird pricing.

When: October 23-25, 2019
Where: Las Vegas Convention Center
Contact: info@theabcshow.com
Details: This trade show specializes in medical devices for children and adolescents. For engineers and manufacturers in the pediatric space, it's a one-stop convention for connecting with retailers, distributors, and clinicians.
With over 600 exhibitions on the trade floor, it's one of the largest meetups in any industry, and a one-of-a-kind opportunity to see new medtech that's specifically designed for kids. Day passes are available for $250 for independent sales reps.

When: May 12-14, 2020
Where: Atlanta, GA
Contact: Ali Rosenberger, Marketing & Conference Manager ali.rosenberger@usa.messefrankfurt.com
Details: A leading conference for the medical textile industry, TechTextil North America is where R&D comes to life. Here, leaders in antimicrobial fabric development guide attendees through advanced processes related to fabric production, treatment, and recycling.
For medical device pros, it's a great opportunity to network with top medical textiles manufacturers like Herculite, and get the inside scoop on new tech in the industry. Exhibition hall passes start at $50 and symposium passes are $125.
2019 is slated to be another great year for medical device manufacturing industry meetups. No matter whether you're spreading the word on a new product or looking around for new tech, conferences are valuable resources. Which ones are you excited to attend this year?
Ready to take your business to the next level? Read about six digital marketing strategies for medical device manufacturers.