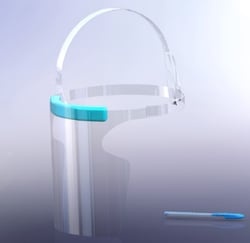 Strataglass and Herculite have received many requests for potential uses of our products in PPE. Strataglass is not FDA approved for use, but we have created two designs that use Strataglass as a protective barrier. We are providing these as design guides for your use.
PLEASE NOTE: Strataglass makes NO CLAIM that these designs will protect you from contracting any virus or disease. Use at your own risk. The face shields are meant to be used in conjunction with CDC approved masks and eye-wear.
See the designs below:
This is design and pattern for a face shield that can be quickly assembled with just three (3) components; 40mil Strataglass clear vinyl, adhesive backed foam and adhesive backed hook and loop Velcro. Click here to obtain the patterns and assembly instructions.
The Protector Shield is a lightweight barrier and protective screen that can be easily assembled using Strataglass clear vinyl, common industry pipe fittings and nylon cable ties for frame attachment. To view the design and manufacturing guide click here.
We have been inspired by the dedication of our co-workers and the unity across our industry to take up this fight. We are proud to be part of the fight against the COVID-19 pandemic by supplying life sustaining, critical need materials to fulfill the unprecedented demands of these crucial industries. To learn more about Herculite's efforts click here.