Tent Fabric
Herculite Tent Fabric - 5 Considerations for an Event Tent
Party tent fabrics are cool, dramatic, romantic, multi-purpose, and easily rented for special events. How do you choose the right tent?
---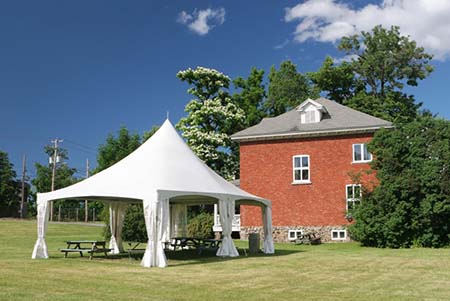 Party tents made with Herculite fabric are cool, dramatic, romantic, multi-purpose, and easily rented for special events. There is something so unique about the tent atmosphere in an outdoor event. Weddings, graduations, anniversaries, corporate events, alumni reunions, and many other events can be transformed into a memorable experience with the use of a Party Tent. But, choosing the right party tent for the right occasion from the right provider requires some planning:
Space: Different functions demand different space. Different seating plans and floor plans demand different spacing. For example, if the tent is to host wedding cocktails and dancing, you need less space than if you are seating 150 guests at round tables.
Property: The tent may be one size, but it won't be one-size-fits-all. Your lot needs to make room for the square footage of the tent PLUS the stakes and cables that support it. A tent squeezed into a too small plot losses much of the drama and romance in its appearance.
Level: Tents work best on level ground; they struggle with slopes and hills. Your event planner needs to examine the planned location thoroughly before making promises for dance floor or seating arrangements.
Cost: Be realistic. Renting tent comes with additional expenses. You may need permits in your town. And, you may need flooring, generators, and tables and chairs. The tent may be the big item - but not the only cost.
Color: Most tents are white or canvas color, but there is a wide array of color, color combinations, and materials. Tents come with see-through ceilings, windows in the walls, and netting to keep insects at bay.
You need also to choose the tent structure most suited to your needs:
Party Canopy is an easy-to-install, inexpensive way to basically protect quests from rain or sun.
Pop-Up Canopy is another light-weight class of party tents with a fabric covered collapsible frame.
Frame Tents require professional set-up because it has a metal frame without center poles.
Clear Span Tents also require set-up. They have no center poles, and the high sloped ceiling opens up the space inside.
Pole Tents have poles on the edge of and in the center of the tent. This design withstands harsh weather, but reminds you of the colorful circus Big Top.
Well before your big event, locate the rental service that specializes in party tents. Review your needs and budget, but don't be afraid to press them on getting the best product and services.
Thoroughly review what you need and what you can afford with people who know tents - how to install them.