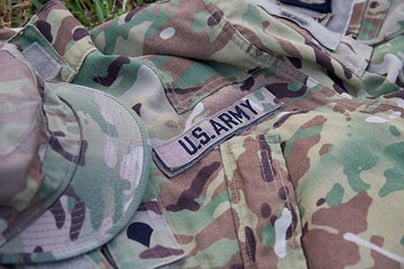 There are multiple military fabric durability concerns one must keep in mind when selecting the right fabric, and fabric supplier, when purchasing for military needs. Many military fabrics on the market look good enough to the naked eye, but just looking good doesn't mean the fabrics will be long-lasting, high-quality products built to withstand the wear and tear of daily use.
In order to ensure the fabric will be durable enough maintain their structural integrity under harsh environmental elements encountered on the job, here are a few key things to keep in mind when thinking about military fabric durability.
Moisture and Mildew
One of the top priorities is to make sure the fabric is waterproof and mildew resistant. If moisture is allowed to seep into the fabric when out in the field, it can quickly lead to the growth of harmful mildew. Choosing fabrics that are constructed with fibers that inherently resist mold, such as petrolatum or polyethylene based fibers, rather than those made with natural cellulose and protein fibers, fosters an environment which doesn't encourage mold or bacterial growth.
In the case of military uniforms, long periods of time may pass before the uniform is able to be properly cleaned. It may not seem like a big concern a first, but mildew can not only lead to sickness and odor, but over time can actually eat away at the fabric itself, causing it to rot and deteriorate. Waterproof and mildew resistant fabrics are perfect for wet climates and locations of all types, from ports and wetland areas, cold and snowy tundras, to hot and humid jungles. High-quality, durable, water-resistant fabric will keep people dry and healthy, as well as cut-down on future procurement costs as they won't require frequent replacement.
Extreme Heat & Flames
Another major durability factor is how the fabric will be able to hold up to extreme heat and exposure to flames. In the case of a company like Herculite, all of their military grade fabrics have been rigorously tested for fire and heat resistance, meeting the requirements of Federal Standard 191-5903. The standard not only measures the amount of char on the fabric, but the resulting tear length of the tested piece as well.
Fabrics that meet this standard have undergone strenuous testing so you can be assured that should the occasion arise, the fabric will perform as required. High-quality military fabrics, such as those mentioned above, won't need to compromise their flexibility or durability standards in order to withstand the heat they are asked to perform under.
UV Light
Prolonged exposure to ultraviolet light and radiation is a common but serious source of damage to military fabrics. Extended time under the sun's harmful rays can lead to cracking and eventual disintegration of the material. The first, and most obvious warning sign of ultraviolet degradation is discoloration. UV resistant materials are able to absorb and disperse potentially harmful rays from not only damaging and weakening the fabric, but the skin of the person wearing the uniform as well.
For military fabrics that are expected to have a long service life requiring long periods of UV exposure, it's important the fabric be resistant to ultraviolet light. Whether the mission calls for lengthy stints under the hot sun of a foreign desert, or simply standing guard outside the base, UV resistant fabric will keep the fabric from succumbing to the sun's effects. Resistance to ultraviolet light also aids in enduring another cause of damage: abrasion.
Abrasion & Tearing
The most visible testament to military fabric durability is its ability to withstand abrasion and tearing. Fabrics produced with knitted, or woven polyester scrims yield an extremely high resistance to tearing. Not only does the makeup of these kinds of fabrics help reduce tearing, but they increase flexibility and make them easier to use and wear. If the fabric is made into uniforms, something required to stretch and bend easily, then knitted polyester scrims are perfect for the job.
Coupled with knitted polyester scrims, another key factor in determining military fabric durability is whether or not it has been made with a consistent average weight per square yard. Consistent weight throughout the material leads to superior abrasion resistance.
Summary
When deciding which fabrics to purchase for your military needs, choose fabrics made with these built-in resistances to the elements and hazardous conditions Mother Nature is capable of. Superior durability of the fabric not only results in a longer life, but in saving money over the long haul. Hight-quality military fabrics, like those found at suppliers such as Herculite, are flexible, tough, durable, and long-lasting because of their superior construction.
Military fabrics are, undoubtedly, specialty fabrics. Their uses and applications demand durability, quality and structural integrity. Download our free Whitepaper to learn more about the four essential characteristics that should be found in all military fabrics.