Performance Fabrics
Performance Fabrics and Military Applications
Herculite's military fabrics are designed to stand the test of time and daily wear and tear.
---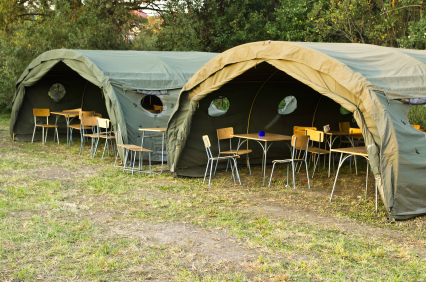 Did you know that performance fabrics are used for a wide variety of products in the military, industrial, and agricultural industries? In the military, these specialty fabrics are used for clothing, gear, and other applications like in the lining of rockets. In the field, soldiers rely upon their gear to get them through a hot or cold day; having a performance fabric specially designed to manage body temperature can help them complete their missions or tasks.
In fact, performance fabrics offer more than meets the eye: they are functional and can feature:
Thermo-regulation
Moisture resistance
UV ray protection
Moisture management
And more!
In the military, you might see performance fabrics in the form of extreme cold uniforms, parkas, in underwater suits, in boots, hats, and more. You've probably also heard of DuPont's Kevlar which is used in bulletproof vests and other applications like in tires, racings sails, and more. In fact, performance fabrics are excellent for military and industrial applications because of their strength and resistance to cold and heat.
Performance fabrics are also great for use in the production of uniforms because of the various features they offer including the aforementioned antimicrobial qualities and moisture management abilities.
Also, performance fabrics/specialty fabrics can be used to line the inside of spaceships and rockets because they can manage moisture, heat, and cold so well. Also, military tents can be made from performance fabrics too. These specialty fabric tents offer UV ray resistance, blackout material options, and longevity as well as protection from the elements.
So the next time you're thinking about specialty fabrics and performance fabrics, remember, there are a variety of uses that we never consider! In fact, specialty fabrics manufacturers like Herculite Inc. offer military grade performance fabrics. Herculite offers its Herculite 20® and Herculite 80® brand military fabrics which feature:
Woven polyester scrim for high tear resistance
Consistent square yard average weight for superior abrasion resistance and longer life
Waterproof
Mildew and ultra violet light resistance
Flame resistance to Federal Standard 191-5903
Herculite's military fabrics are designed to stand the test of time and daily wear and tear. The company's fabrics are also designed to be used in any type of situation and weather worldwide; whether it's desert, mountain, or sea these fabrics are meant to withstand extreme temperatures. Rain, snow, heat, humidity, and more, Herculite's military fabrics are dependable. For more information about Herculite's military fabrics visit http://www.herculite.com/military-fabrics.