Performance Fabrics
Industrial Vinyl Fabric Solutions for Special Use Cases
Herculite's Industrial Vinyl Fabric Solutions have applications across countless industries and use cases, and all of their products are manufactured to exacting standards here in the USA.
---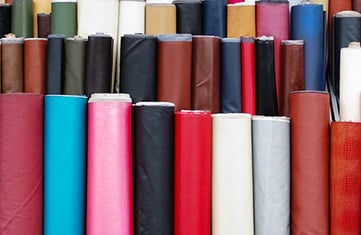 Finding high quality specialty fabrics isn't always easy. When fabrics are applied for industrial, agricultural, or even military uses, quality and customization are two of the most important considerations. Simply looking for any industrial vinyl fabric manufacturer is not an option. It's essential to find a company you can a trust. Herculite produces custom and specialty fabrics that meet a wide range of potential use cases. Their fabrics are also of the highest quality and can stand up to even extreme conditions.
Industrial Fabrics
If you need tough, durable fabrics that for industrial use, Herculite produces a variety of options in this category, including the Herculite 10W®, Herculite 90® and Herculite 2000®. Each is available in a variety of colors to fit any need. They also have a consistent average weight, which translates into a longer life. From use in warehouses, manufacturing facilities, refineries, or any other industrial use, these fabrics provide both tear resistance and flexibility.
[Whitepaper: Four Essential Characteristics That Should Be Found In All Military Fabrics]
Translucent Fabrics
Herculite also offers translucent fabrics that have several qualities that make them ideal for industrial uses. They can be adapted for everything from construction enclosures to divider curtains to tension structure liners. Produced with polyester scrims, these fabrics have high tear resistance. They are also waterproof and mildew resistant to help protect them from the elements. Another key benefit of these translucent fabrics is their resistance to UV light.
Agricultural Uses
Herculite produces agricultural curtains that are the industry standard for the poultry, hog, and dairy markets. These curtains provide natural ventilation that many veterinarians believe is better for animals' health and productivity. The curtains are also resistant to shrinking so you can be sure that they will maintain dimensional stability and prevent any escape points from developing. Additionally, while they can effectively close off any space, they still allow natural light through, helping to ensure the inside of facilities remain well-illuminated.
Military Uses
Fabrics for military can't simply look nice. They must also stand up to harsh conditions and daily wear and tear. When choosing these fabrics, it's best to contract with a company that has a strong reputation in producing dependable material. Herculite goes beyond military certification and strives to create fabrics that are long lasting and dependable. For military uses, quality should always be a key focus in buying fabric.
Herculite produces two military fabrics, both made with knitted polyester scrims that prevent tearing while ensuring flexibility over time. Herculite 20® is available in 10-ounce weight. Herculite 80® is available in 18-ounce weight. Both are available in a variety of colors. These fabrics can be used in any type of situation or any weather condition. Both are waterproof and mildew resistance. Their superior abrasion resistant also yields a longer life. Like many of Herculite's industrial fabrics, they are also flame resistant to Federal Standard 191-5903.
These fabric options make Herculite the go-to choice for superior quality industrial fabrics. Whether it's for uniform or tents on the battlefield or dividers within the farms that supply food to people around the country, Herculite makes the fabrics you can count on.
Military fabrics are, undoubtedly, specialty fabrics. Their uses and applications demand durability, quality and structural integrity. Download our free Whitepaper to learn more about the four essential characteristics that should be found in all military fabrics.