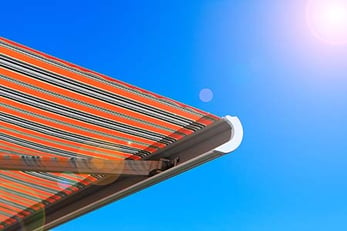 A colorful canvas canopy is a powerful attention grabber and low cost advertising space. Your name and message on canvas invites passersby to enjoy welcome shelter from inclement weather and the summer sun. Make sure your canopies project a positive image by choosing the best canvas fabrics for your location and taking steps to clean and protect them from the damaging effects of the weather. With proper care, a commercial canvas canopy will remain attractive for years.
The right material
Ensuring that your canvas canopy looks and lasts begins well before it is time for cleaning or weatherproofing. Choosing the right canvas fabric is the best way to ensure that your canopies and awnings stay fresh looking and resist damage from weather and harsh UV radiation.
Cheaper canvas fabrics may be subject to mildew, staining and discoloration. Your best solution for long lasting beauty and functionality is buying commercial grade synthetic canopy fabric treated with a weather resistant top coating. Synthetic materials like Herculite Natura® and Coastline Plus® offer the natural look you want and are durable and weather resistant. Generally speaking, vinyl fabrics are waterproof and woven cloth fabrics are water resistant.
The best canvas canopy material is:
Treated to resist staining
Easy to clean and maintain
Regular Cleaning
Thoroughly clean an awning or canopy before applying waterproofing and UV protection. Even though commercial canvas canopy fabrics are factory treated to resist damage from sun and rain, regular cleaning and weatherproofing keeps them looking fresh and attractive and can lengthen their working life.
You can do the work yourself or hire a professional cleaning service for yearly cleaning and maintenance. You should begin regular cleaning and weather protection the first year after installing your awnings or canopies.
Brush away any dirt or debris on the fabric and use a soft brush and mild soap solution to scrub away any stains and soil. Follow the manufacturer's recommendation as to the types of cleaning and weatherproofing agents to use for your canopy canvas fabric. Make sure to check the canopy frame for rust that might stain the fabric. Use rust resistant enamel paint to repair the frame and protect your canopy.
Protection
Better quality commercial canvas canopy fabric is factory treated with top coating like Herculite Rain Kleen® II Top Coating to reduce the impact of weather. Maintain that level of protection by applying a manufacturer recommended fabric protection agent like Fabric Guard® when you do your yearly cleaning on acrylic fabrics.
Be careful to apply weatherproofing agents recommended by your awning manufacturer. Top quality awning and canopy manufacturers like Sunbrella® and Herculite® specify which products are safe to use for your fabrics. Using other products can void your warranty and damage the fabric.
UV protection helps to reduce the fading and discoloration the sun inflicts on your canopies and awnings. After cleaning, applying a manufacturer recommended UV protectant such as 303 Aerospace Protectant® will help to maintain that fresh, new look. Treat regularly and keep your canopy looking good and projecting a positive image for your business.
Get the most from your canvas canopy and sidewalk awnings. Invest in quality fabrics like Herculite, clean and maintain them regularly and you'll get years of service out of them.
To learn more about what comprises a quality awning fabric, download our free guide "Five Factors to Consider when Determining a Awning Fabric Quality"