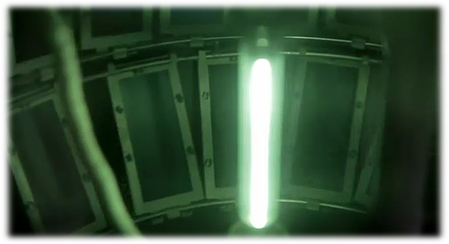 How do you know if UV test results from one vendor to the next are giving you an accurate comparison? How do you know what the test results actually mean as it relates to real world UV performance? UV testing can be a very confusing area of product formulation and product evaluation. The complexity starts with the fact that there are several different testing processes that can be used to evaluate ultraviolet light exposure.
Some of the more common testing methods for performance outdoor textiles are:
QUV (A & B)
Xenon Arc
Accelerated Outdoor Exposure
Actual Outdoor Exposure
Within these different testing methods, there are different variations that can impact the results.
In each case, the hours of exposure is the measure that is used to determine fading, plastisol migration and reduction of core fabric strength. Typically, a number of specimens are put into the testing device at the same time with a control sample set aside for comparison purpose. At measured intervals, specimens are taken out of the testing equipment and compared to the control. At the end of a testing process, there would be 4 to 10 specimens that would be compared to the control to see the degradation that was caused from the exposure to the test method over a period of time. Pretty simple, right? Wrong.
Different testing devices require different levels of exposure because of the light source.
Exposure Time
Each test method requires different levels of exposure to represent a period of time in a real world environment. As a rule, the following hours of exposure represent one year of exposure in a Florida-like environment, assuming that the testing equipment is equipped with a moisture cycle to simulate humidity.
| | |
| --- | --- |
| QUV B | 500 hours |
| Xenon | 1000 hours |
| Accelerated Outdoor Exposure | Variable |
| Actual Outdoor Exposure | 1 Year |

Each light source has a unique impact on the fabric specimen. Generally speaking, Xenon Arc is a better testing method for color fading, but QUV is better for strength evaluations.
True exposure to "real world" exposure is not exactly the same as lab testing, because actual fabric degradation is influenced in varying degree by three factors:
Light
Humidity
Temperature
Even under the best circumstances a lab cannot accurately replicate these factors in such a way that will give you exact "real world" performance. Every climate and every year of exposure are different when testing material outdoors.
Now back to the real world that we live in:

Few of us can afford one testing apparatus, let alone several, to determine the expected UV life of your products. How do you make the best decision on fabric choice as it relates to UV? Either have different manufacturers provide UV results using the same test method, or have a lab test compare products at the same time using the same testing devices and procedures.
At a minimum, you should ask a manufacturer for their UV resistance test results, understand what test method they used and use the table above to compare the performance.
Finally, the best UV resistance indicator is actual experience. Because of the nature of different climates, the best way to be sure that the right fabric is going to work for you in your application is proven performance. Has the fabric worked successfully in the past? Does the manufacturer have a track record of proven performance with outdoor color fastness and product strength? All of the test methods we have discussed will help you understand the different methods, but at the end of the day, actual real world exposure is the best answer to the question of future UV performance.