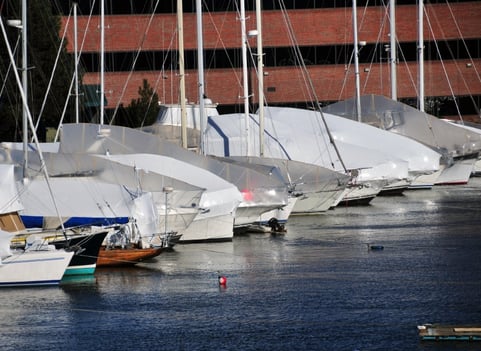 One of the most common textiles used in marine fabrics is vinyl. You might be wondering how can a plastic be a fabric? Well let's define what vinyl is:
Vinyl is created from ethylene and chlorine. When both of these elements are combined, polyvinyl chloride (PVC) is formed and we know it as vinyl. Invented in 1920, vinyl is the second-most manufactured plastic resin in the world.
Vinyl is also technically a specialty fabric. Most commonly, you will see vinyl in things like fabric structures, upholstery, and covers. In the marine industry, vinyl fabrics are also common. However, not all vinyl textiles are created or designed the same. In fact, vinyl can be coated and enhanced from its original form. But what does that all mean?
For boaters, this means that when you're choosing a cover, upholstery, or shade structure for your watercraft, you want to be sure you're getting the best product for your needs. This is where Herculite Inc. steps in to help make your decision fast and easy.
Heculite's Marine Fabrics feature the Riviera and Regatta brands. These fabrics are made from a vinyl composite and are great for boats, yachts, and other watercraft. But what sets Herculite apart from other marine vinyl suppliers? Why are Herculite's marine fabrics better?
The answers are threefold:
Quality

: Herculite's marine fabrics are designed with core stabilization, are wrinkle free, soft and supple, available in various shades, and more. In fact, Herculite's Riviera marine fabrics are:

Top coated for easy cleaning

Colorfast

Mildew Resistant

Waterproof

Versatile (can be used or bimini tops, enclosure curtains, cockpit covers, and boat covers).

Lightweight

Controlled stretch for ease of fabrication.

UV Ray resistant



Not many marine fabrics come with so many added features. Quality matters when it comes to protecting or covering your boat. With a quality fabric, the life of your cover or bimini top will last far longer.

Customer Service:

This is an essential component of how and why Herculite is a distinguished marine vinyl supplier. Customer service representatives are knowledgeable, helpful, and timely when it comes to helping you with your marine vinyl project. Herculite's staff is ready and waiting for questions and willing to help.




Warranty

: Not every company offers a five-year warranty on marine vinyl fabrics, but Heruclite does. Five years is a long time in the life of a marine fabric, but that's how confident Herculite is when it comes to the quality of its products. You can be sure your purchase will stand the test of time and the rigors of the sea.
Herculite offers marine fabrics for many kinds of watercraft, including yachts. Herculite's quality products, excellent customer service, and five-year warranty guarantee are hard to match by other marine vinyl suppliers. That's why Herculite is one of the best marine textile suppliers today.
Herculite's innovative processes and ISO 9001:2008 Certification for the design and manufacture of vinyl laminates make it one the leaders in the marine vinyl supplier industry.
When it comes to marine fabrics, laminate provides several clear benefits. Learn more by checking out our latest eBook, "Why Laminated Marine Vinyl Fabrics Offer Advantages Over Coated Marine Vinyl Fabrics".