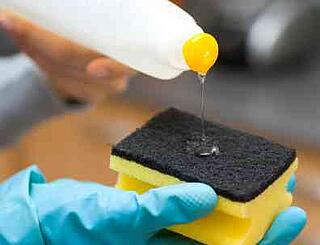 Today, we use vinyl for awnings, signs, tents, boats, tent structures, clothes, and more. From boat seat coverings to that corporate banner sign, vinyl performance fabrics are a part of our daily lives. Understanding how to care for and cleaning vinyl fabric is the first step in ensuring you not only enjoy your PVC fabric product, but help make it last.
The first step to understanding how to clean vinyl is to understand its properties.
Here's a quick rundown:
It is resistant to moisture and humidity.
It is also flexible in what it colors and products it can be made into.
The material is strong and long lasting.
When cleaning vinyl remember to do the following:
Avoid harsh cleaning products and solvent chemicals.
Use water or mild dish detergent.
If you have vinyl furniture, you can vacuum it.
Use soft, non-abrasive cloths to wipe down the material.
If you have a tough stain, you can try using a blend of 10 percent bleach and 90 percent water. (Remember to test this solution out on your fabric in an area that isn't easily visible to see if it discolors or damages your fabric. If it does, stop using the blend and look for a cleaning solution that is specifically made for vinyl).
Remember to make sure you've wiped down your vinyl product and that it's dry before storage.
Vinyl is an excellent material for structures, tents, awnings, boat coverings, and more, especially when combined with other materials. The flexible and durable qualities of the fabric, makes it a great choice for your specialty fabric product needs. Herculite offers a wide range of speciality fabrics with characteristics that are sure to exceed your expectations.