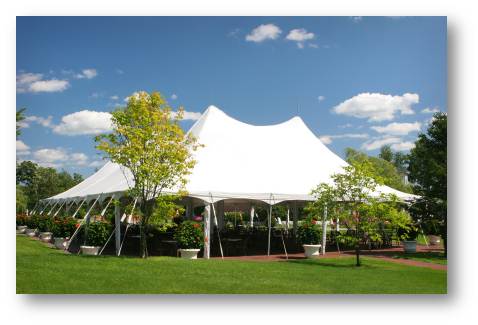 When we think of tents, we often think of things like camping and outdoor activities like that. But did you know that tents are used for a variety of other purposes including but not limited to:
Parties
Weddings
Outdoor Events like Concerts
Military Applications
Medical Applications
Amusement Park Structures
Shade Structures
Tents that are not used for camping are constructed of a specialty fabric material that is created to withstand the elements. In fact, you might have seen these types of event tents at circuses or at an outdoor event like a wedding or even at an amusement park.
The textiles that are used to create these shade structures utilize a combination of features to ensure structural integrity and durability. In fact, Herculite Inc. offers a line of tent and structure fabrics that are used for things like party tents, wedding tents, and at theme park tents.
Herculite's tent and structure fabrics offer curl-free material that can be made with blackout or translucent features. These fabrics can also be made fire retardant and come in a variety of ounces depending on your project's needs.
For example, Herculite's Showtime® tent fabric brands have been the standard for theme park and event applications for more than 30 years. The Showtime brands provide excellent performance with a high gloss, ultra-smooth surface and an extensive color offering.
Herculite also offers tent fabric for military and medical industry applications. If you're wondering what in the world the military or medical industries could use tents for, here's a quick rundown:
Medical Treatment Tents: think of an outbreak and how temporary structures are created to handle patients.
Military Shade Structures & Tents: these include things like mobile structures like you might see during a military operation.
Mobile Units: these tent structures are created to be put up and taken down quickly for both military and medical applications.
Indeed, there are quite a few applications for tents. We often forget or just don't notice how important and a part of our lives these various types of tents are when it comes to everyday living. So the next time you're at an outdoor wedding, party, concert, or event, look up and check out that great tent you're standing under; after all it is protecting you from the sun and rain.
Now that you know the difference between the types of tents, contact us today to see how we can help you with your next project. For more information about Herculite's tent and structure fabrics visit us at http://www.herculite.com/tent-and-structure. Or for more information about us visit us at www.herculite.com. Or call us if you would like more information about our products and services at 800-772-0036.